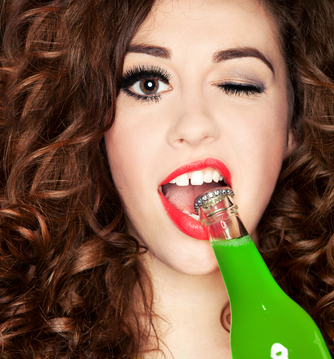 Whether you have naturally aligned teeth or not, there may be one element of your smile that's still plaguing you – a gap between your front teeth. Some people are delighted by this notable characteristic that makes their smile stand out from others and makes them memorable. Plenty of celebrities and models rock their front-teeth gaps: Anna Paquin, Vanessa Paradis, Uzo Aduba, Michael Strahan. But, celeb or not, if your gap makes you self-conscious and uncomfortable, Invisalign could be the solution you've been seeking.
What Causes Gapped Teeth?
Some of the most common causes of tooth gaps include:
A large frenulum. The soft gum tissue in between your two top front teeth is known as the frenulum. If yours is too large, this could prevent your teeth from coming together completely and cause a noticeable gap.
Using a pacifier or thumb sucking. Tooth spacing and alignment can be impacted by a child's tendency to suck his thumb or his dependency on a pacifier.
Tongue thrusting. A swallowing reflex, tongue thrusting makes the tongue push against the top front teeth when you swallow. The action can cause tooth gaps to develop over time.
Missing teeth. If you have missing teeth or some adult teeth never erupted, the rest of your teeth will shift positions and this is likely to cause spacing problems.
As you can see, some causes of gapped front teeth are beyond your control. Other causes occur in childhood when intervention is difficult to enforce. What's important is that there are solutions to eliminate the gap.
Can Invisalign correct your overbite? >>

Are Gapped Teeth an Oral Health Problem?
The problem with gapped teeth is mostly an aesthetic one. Some people feel like there is a spotlight on the gap between their front teeth and want it closed as soon as possible. Others embrace this unique trait and proudly show off their quirky smile.
There are many solutions to repair gapped front teeth. If your other teeth are small, damaged, or stained, you may consider porcelain veneers. This versatile cosmetic dentistry solution provides multiple corrections at one time.
However, if the gap is all that bothers you, Invisalign can close it up and give you the aligned and orderly smile you want.
Should you choose porcelain veneers or Invisalign? >>

How Does Invisalign Eliminate a Front Tooth Gap?
When you visit your Red Bank dentist, she will examine your teeth and do a virtual scan of them. From there, 3D planning software is used to address the gap between your front teeth (and any other alignment issues you may have). You will be able to see on the digital screen just how your smile will shift over time with Invisalign.
The methodology behind Invisalign is simple – the aligners move certain teeth at certain times during treatment. Your dentist will design a customized treatment plan that is specific to your needs so your teeth move appropriately to shift your smile. You will begin to see changes very soon and, over time, your gaps will minimize. In some cases, additional bonding may be necessary to complete the smile makeover you're seeking.
If you have questions about your gapped front teeth and alignment concerns, or you think you're ready to talk about Invisalign, make an appointment with Dr. Carole Sherrod Jewell at Red Bank Dentistry to learn more.