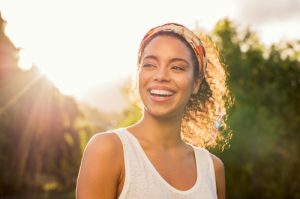 Are you ready to change your look and your life? A customized smile makeover from Red Bank Dentistry will revitalize your appearance and boost your confidence, whether you need cosmetic dentistry, restorative dentistry, or both.
Are You a Good Candidate for a Smile Makeover?
Are you embarrassed to smile because of your teeth?
Do you wish your teeth were whiter?
Do you cover your mouth when you talk or laugh?
Are you reluctant to speak up to avoid drawing attention to your teeth?
Do you have mouth pain and discomfort?
Is it difficult for you to bite and chew?
If you answered "yes" to any of these questions, it's time to consider a smile makeover. Your Red Bank dentist can restore your teeth and oral health and give you a celeb-worthy smile you're proud to show off.
Good Reasons to Get a Smile Makeover
You don't have to know what cosmetic dentistry or restorative dentistry procedures you want to have done before you visit your Red Bank dentist about a smile makeover. Together, you will determine what your teeth and gums need to look and feel their best while staying with your budget and comfort zone.
The most common problems patients want to fix include:
Broken, cracked, or chipped teeth
Damaged fillings
Silver fillings
Loose teeth
Missing teeth
Misalignment
Jaw pain
Sore, painful, or bleeding gums
Stained or discolored teeth
Short teeth
Gapped teeth
Smile Makeover Procedures
Some patients may need only one or two treatments to get the results they want. Other patients have more complicated cases and require more time in the dentist's chair. Your smile upgrade is between you and your Red Bank dentist.
Ultimately, no matter what age or stage of life you're in, you're a good candidate for a smile makeover if you want a healthier, better-looking smile.
Some of the most common smile makeover procedures include:
Tooth-colored composite fillings
Teeth whitening
Porcelain veneers or Lumineers
Invisalign
Dental implants
Porcelain tooth crowns
Dentures
Gum disease treatment
TMJ treatment
If you consider your teeth unsightly and are embarrassed by them, that's a big enough reason to want to pursue a better smile. Just one treatment – like teeth whitening or veneers – can make such a significant difference in your appearance.
How a Smile Makeover Works
No matter what condition your oral health is in right now, a smile makeover is possible. The repairs may not start where you anticipated, but there will come a moment when your smile is beautiful and healthy.
If your gums are infected, gum disease therapy will be necessary first. You can only build a new smile on a strong foundation. Any infections or problem areas must be addressed before any cosmetic changes can be made. For this reason, every smile makeover begins with a comprehensive oral exam and consultation with your Red Bank dentist to determine the current state of your oral health and how it needs to change.
If your teeth and gums are in great disrepair, it can be difficult to be patient for the most noticeable smile makeover work to occur, but the results will be worth the wait.
Get a Smile Makeover from Your Red Bank Dentist
Schedule your appointment with Dr. Carole Sherrod Jewell or Dr. Pauline Robinson at Red Bank Dentistry to discuss your smile makeover. Find out what your journey to a new smile and a new you will look like. There is no time like the present to invest in your oral health and appearance. A smile makeover can be life-altering – professionally and personally.
If you believe in your smile, you will believe in yourself– and so will others. Contact us today to get started.