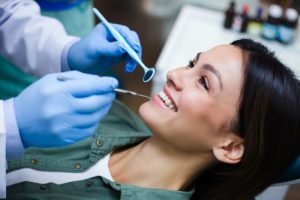 Your teeth work hard day after day and, over time, it's not uncommon for problems to develop and deterioration to occur. Even if you take excellent care of your oral health and see your dentist regularly, complications can arise, infections can develop, and accidents can happen. The restorative dentistry procedures offered by Dr. Carole Sherrod Jewell and Dr. Pauline Robinson at Red Bank Dentistry correct and beautify your teeth for a functional, comfortable, and flawless smile.

Reasons to Get Restorative Dentistry
Restorative dentistry can do amazing things to rejuvenate and repair a smile, whether you have one problem tooth, many missing teeth, or are experiencing chronic pain and discomfort. Dental restorations from your Red Bank dentist make it possible to:
Eliminate pain
Prevent tooth loss
Restore normal biting and chewing motion
Replace old dental work
Replace missing teeth
Repair damaged teeth
Correct decayed teeth
There is always a solution for whatever oral health problem you are experiencing. Often, there are multiple solutions for your concerns and you will have the opportunity to choose the procedures and budget you are most comfortable with to get a strong, secure, long-lasting dental restoration.
Porcelain tooth crowns are one of the most versatile and helpful dental restorations available. Crowns can address all sorts of problems:
Correct a chipped tooth
Strengthen a weak tooth
Restore a decayed tooth
Fix a damaged tooth
Conceal an unsightly tooth
One of the biggest advantages of porcelain tooth crowns is that they are both restorative and cosmetic. Whatever repair is needed, the crown is customized in size, shape, and color so it blends in with the rest of your teeth and looks like a natural part of your smile while returning it to full functionality.
Dental Bridges
Dental bridges are customized restorations that "bridge" the gap between two teeth left by a missing tooth. Whether a tooth is lost to decay, infection, or damage, once the area is healed and ready for a repair, a dental bridge can fill the hole. The bridge is clasped to neighboring teeth, topped with a prosthetic tooth crown to replace the missing tooth, and often anchored in place with porcelain crowns.
For patients who want a truly secure, long-lasting dental restoration for a missing tooth or teeth – and do not find dentures appealing – it's time to talk dental implants. Implants replace both tooth root and crown, ensuring that your jawbone remains stimulated and delivering a truly robust restoration that blends right into the rest of your smile. Dental implants are permanent, look and feel just like natural teeth, and can be treated and cleaned just like natural teeth.
Incredibly versatile and effective, tooth-colored composite fillings can repair chipped teeth, strengthen worn teeth, and fix cracked, broken, or decayed teeth. Many patients also choose composite fillings to replace deteriorating and problematic amalgam silver fillings.
Modern dentures have come a long way from the dentures of your grandparents. These restorations are reliable, comfortable, and customized to suit your mouth. Partial dentures can replace a section of missing teeth, while full dentures can replace an entire arch of teeth. Still concerned about covering your palate and adjusting to adhesives? Talk to your Red Bank dentist about dental implant-supported dentures.
Get Restorative Dentistry in Red Bank, NJ
If you have decayed or damaged teeth that make it embarrassing to smile and difficult to speak and eat, it's time to learn more about the restorative dentistry procedures available from Red Bank Dentistry. Correct, repair, and replace with modern dental restorations customized just for your smile. Contact us today to schedule your appointment in Red Bank, New Jersey.