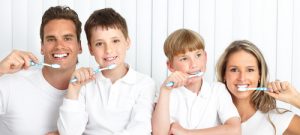 At Red Bank Dentistry, we care for patients through all ages and stages of life. Our comprehensive menu of treatments and procedures include general dentistry, cosmetic dentistry, restorative dentistry, and orthodontics. As a Red Bank family dentist, we work with children, adolescents, and adults to ensure that everyone has healthy teeth and gums for a lifetime.
Red Bank Family Dentist Treats Patients of All Ages
Oral health needs vary with age. As a Red Bank family dentist, we are dedicated to engaging uniquely with each patient and identifying what your unique oral health circumstances are so you can receive appropriate care and treatment.
At Red Bank Dentistry, we treat:
Children: We are always thrilled to welcome the youngest patients into our practice and help establish the importance of oral health care for a lifetime of good dental habits. We teach kids the right way to brush and floss, explain why we need to take good care of our teeth, and help them feel calm and comfortable at the dentist. We offer teeth cleanings, dental exams, x-rays, sealants, orthodontic evaluations, and tooth-colored fillings for children.
Teens: Many teenagers are facing an adolescence of orthodontics, but we strive to make this essential stage of oral health care palatable for teens. Tooth-colored conventional braces and Invisalign Teen are both options for great orthodontic treatment done discreetly.
Adults: We want our adult patients to make their dental health a priority, visiting their Red Bank family dentist every six months for a cleaning and exam, and getting immediate treatment for any tooth pain or dental problems they experience. Taking good care of your teeth will make aging easier. This is also the age bracket when many patients consider upgrading their smile with cosmetic dentistry like teeth whitening or porcelain veneers.
Seniors: With age comes wisdom and, unfortunately, oral health problems. The risk of developing gum disease increases with age, and medications or illnesses can wreak havoc on teeth and gums. Deteriorating teeth and broken-down smiles can be corrected with dental restorations like dental implants and porcelain tooth crowns so you can have a healthy, comfortable set of teeth.
Dental Services from Your Red Bank Family Dentist
We offer four main categories of oral health care at Red Bank Dentistry:
General Dentistry: Includes preventive dental care to promote healthy teeth and gums, like teeth cleanings and checkups, as well as gum disease treatment, sleep apnea and snoring treatment, and TMJ therapy.
Cosmetic Dentistry: Includes procedures to improve your smile and overall appearance, like porcelain veneers, Lumineers, teeth whitening, and safe, mercury-free white tooth fillings.
Restorative Dentistry: Includes the repair of damaged or missing teeth with treatments such as dental implants, tooth crowns, dental bridges, and dentures.
Orthodontics: Includes several methods to get straight teeth and a beautiful smile like Invisalign, Invisalign Teen, traditional braces, clear braces, and invisible short-term braces.
Visit Your Red Bank Family Dentist
Our Red Bank dental office is equipped with state-of-the-art technology to provide our patients with the most innovative and up-to-date dental treatments available. We want your smile to last for a lifetime, and it is always our goal to preserve your oral health and support it so you can have strong, beautiful teeth that look good, function perfectly, and make you feel great.
Our individualized care is customized to address every patient's needs at every stage of life. What every patient does experience, though, is our gentle, compassionate care. We know you need to feel comfortable at the dentist, and it is our goal to make every dental visit easy.
If you are in search of a Red Bank family dentist for yourself and your loved ones, contact Red Bank Dentistry in New Jersey to schedule an appointment.