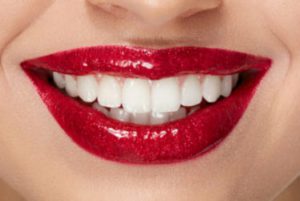 If you have ever wanted a perfect smile in one treatment, look no further than the porcelain veneers offered at Red Bank Dentistry in Red Bank, NJ. Our careful, customized cosmetic dentistry creates natural-looking smile makeovers that will renew your confidence and make you proud to smile again.
Problems Porcelain Veneers Can Fix
Porcelain veneers are made of super-thin pieces of porcelain that are carefully shaped to conceal your natural teeth. One of the most versatile cosmetic dentistry treatments available, veneers can conceal every characteristic you dislike about your smile, including:
Stained teeth
Discolored teeth
Gapped teeth
Misalignment
Short teeth
Small teeth
Cracked teeth
Chipped teeth
Misshapen teeth
Narrow smile
Asymmetrical smile
You can have veneers applied to just a few teeth, or they can be placed on all your prominent teeth for a full smile makeover. Whatever method you and your Red Bank dentist decide upon, the transformation will be both cosmetic and functional. Veneers are incredibly strong and protect and strengthen your teeth at the same time they beautify them.
Customizing Your Porcelain Veneers
Before veneers are applied, they must be designed by your dentist and custom-crafted by a dental lab. The development of your veneers is one of the most important steps in the process and you don't want to rush into any decisions. Your Red Bank cosmetic dentist will work with you to determine the best veneers for your smile based on the kind of look you want to achieve.
Expect to discuss the following characteristics:
Color: You want white teeth, but which shade of white will look the most natural with your skin tone and the whites of your eyes? You don't want teeth that are so white they look fake. Your dentist will guide you in determining the most flattering shade.
Shape: Straight, perfect teeth are not identical to each other but unique to themselves and blend together seamlessly to form a flawless smile. Some teeth are rounded while others are square, some are sharp while others are blunt, some shapes are more masculine while others are more feminine.
Size: One of the fastest ways to spot poorly done fake teeth is when their veneers are too large. The width and length of each veneer will impact how your new smile is built. If you already have oversized or undersized teeth, you know how important it is to get this element just right.
Translucency: You want your veneers to reflect light just like natural teeth. This level must be determined before your veneers are created, and will be influenced by the color and density of your natural teeth underneath the veneers.
The Porcelain Veneer Application Process
There are several steps in the porcelain veneer process and the treatment usually takes two visits to your dentist to complete. Here is what you can expect:
Creation: You and your Red Bank dentist will discuss the characteristics of your veneers and your order will be sent to the dental lab for the creation of the veneers. Impressions of your teeth will also be taken and provided to the lab.
Preparation: To make room for traditional porcelain veneers, the thickness of natural teeth must be slightly reduced by shaving away some tooth enamel. Temporary veneers will be put in place while you wait for the final product to arrive.
Application: When your customized veneers are ready, they will be placed on your teeth and checked for color, size, and shape. Once everything is just right, the veneers are bonded permanently to your natural teeth with a specially selected tooth-colored cement.
Are You a Good Candidate for Porcelain Veneers?
Transforming your smile with porcelain veneers will make you look happier, healthier, younger, and even smarter and wealthier. This smile makeover treatment changes lives, and you may be a good candidate for it. Learn more about this cosmetic dentistry procedure by scheduling an appointment with Red Bank Dentistry today.