Get a Brighter, Whiter Smile with Teeth Whitening
by Dr. Sherrod Jewell, DMD, Red Bank, New Jersey Cosmetic Dentist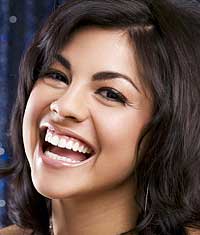 Tooth whitening has become a very popular dental treatment because it is simple, non-invasive and brings remarkable results. It dramatically enhances the beauty of your smile by improving the color of natural tooth enamel.
Reasons for tooth whitening
Yellow, brown stained teeth.
Stained teeth from medication
Excessive fluoride
Worn outer tooth layer
At our office we offer a few different treatment options for teeth whitening
Whitening Strips can be purchased at the office and are applied at home. These strips are a wonderful, inexpensive choice if you only have to freshen your smile.
In-Office Whitening: The next way to whiten your teeth is with an in-office bleaching procedure. During your visit Dr. Sherrod Jewell will apply the whitening product directly to your teeth. Then she will use a special light that shines on the teeth for 30 minutes, then Dr. Sherrod Jewell reapplies the bleach and you go back under the light for 30 more minutes Good results can be seen after only one treatment but depending on how white you want your teeth several appointments may be necessary. This is the best treatment choice for patients with a yellow, brownish tone to their teeth
KöR Deep Bleaching: This is the most effective teeth whitening process. First, Dr. Sherrod Jewell will make molds of your teeth so you can have your own unique, ultra-comfortable KöR Whitening Trays. Then, you'll have a simple visit in the dental office to try on your lab-created trays. The fit will be checked and adjusted if needed. Next you will wear your KöR Whitening Trays for two weeks at home while you sleep. Then you will have an in-office bleaching treatment. The KöR Whitening Deep Bleaching System is completed with this final visit in the dental office. You will be able to use your trays at home to periodically whiten your smile if desired. This is the best option for patients with grey or medication-stained teeth or with tooth sensitivity.
It's important to remember that bleaching systems cannot change the color of restorative dental work – they only work on natural enamel.  Restorations can be replaced after the bleaching process when it is clear what shade the teeth will be. Whitening procedures need to be repeated after several years, sooner if you smoke or drink tea, coffee, or wine, which stain the teeth (except with the KöR whitening system where you already have the trays to continue brightening your smile) .
Your dentist will help you to decide which treatment option will give you the best results.. REMEMBER regular dental visits will help you to maintain a beautiful smile.