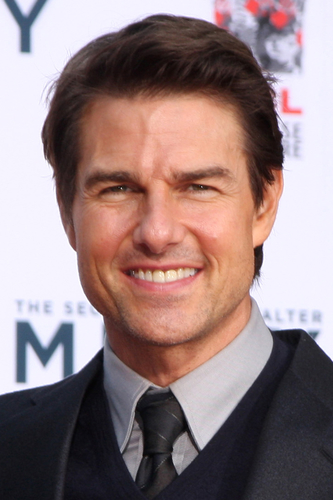 The mission to get straight teeth wasn't so impossible for Tom Cruise. A certified Hollywood powerhouse, Cruise is always under the microscope, so it's no wonder he opted for an under-the-radar way to straighten his killer smile – Invisalign. He's always been quick to flash a grin, but now Cruise has perfectly aligned teeth to dazzle the paparazzi. 
The most coveted celeb smiles >> 
Cruise isn't the only celeb who has opted for Invisalign as his orthodontic treatment of choice. Here are just some of the more notable names who chose invisible braces to get a straight smile: 
Zac Efron
Remember High School Musical, the little movie that launched teen Zac Efron to heartthrob status? His smile was full of gaps at the start of his career. But Invisalign was responsible for eliminating those spaces, giving him a magnificent grin to complement the rest of his mature physique but boy-next-door features. 
Katherine Heigl
When Katherine Heigl spent time at Seattle Grace Hospital as Izzie Stevens on Grey's Anatomy, her smile was less than perfect. She wasn't shy about the fact that she used Invisalign to straighten her teeth, and she did so before she got hitched. She even gave this orthodontic treatment a memorable tagline: Netflix for your teeth. 
Justin Bieber
He may be young but, when it came time to align this pop star's smile, Justin Bieber wasn't about to fall prey to any brace-face nicknames. He opted instead for Invisalign, and then proudly boasted about his orthodontics as a teen on YouTube, promoting the many benefits of this type of cosmetic dentistry. See? Not every teen is doomed to metal mouth. Nor, for that matter, are any adults. 
Khloe Kardashian
No round-up of high-profile names would be complete without a Kardashian on the list. Khloe Kardashian and her clan are hunted by the paparazzi, so she wasn't risking any further tabloid bashing about her appearance. Her teeth were only a little bit crooked, but she wanted her smile to be absolutely perfect so she opted for the low-profile Invisalign to make it happen. 
Gisele Bundchen
Shh! The supermodel everyone thought was born perfect is actually an Invisalign-wearer. One shifting tooth caused Gisele to seek out some secret straightening. Invisalign was the obvious choice.
Celebrities are busy professional people, and they don't have a lot of extra time to be spending hours in the dentist's office getting brackets adjusted and wires tightened. Invisalign allows them the freedom to do their red carpets, photo shoots, interviews, and movie scenes without getting in the way of their brand or image.
You don't have to be a celebrity to qualify for a special orthodontic treatment. And you don't have to interrupt your professional, social, or personal life to align your smile. Dr. Carole Sherrod Jewell is a certified Invisalign provider. Contact Red Bank Dentistry to schedule your free initial consultation and find out whether you're a candidate for Invisalign.