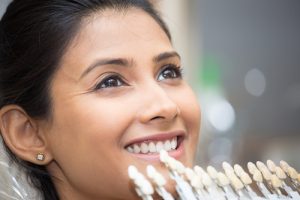 There are very few cosmetic dentistry procedures that can correct every aesthetic smile complaint at the same time. Lumineers fit in this exclusive category. As a minimally invasive alternative to porcelain veneers, Lumineers deliver a flawless smile makeover that will help you look younger, happier, and healthier. Learn more about this dental innovation from the team at Red Bank Dentistry in Red Bank, NJ.
What Are Lumineers?
If you have ever considered getting porcelain veneers but had reservations about the invasiveness of that procedure, Lumineers may be a more appealing option and here's why:
Lumineers are easier to apply.
The procedure is completely painless.
Natural tooth enamel does not need to be removed.
Drilling and injections are not necessary.
Lumineers can last for decades.
Lumineers are made of very thin, super-strong porcelain that is even thinner than the porcelain shields used for traditional veneers. For this reason, your tooth enamel remains untouched. The results of this smile makeover are just as amazing as what can be achieved with porcelain veneers.
How Are Lumineers Applied?
It usually takes two visits to your Red Bank cosmetic dentist to achieve a smile makeover with Lumineers. This is what you can expect from start to finish for your procedure:
Examination: Before you can get Lumineers, your dentist will conduct an exam to ensure that your mouth is healthy enough for a smile makeover. Your teeth must not show signs of decay or infection and your gums must be free of gum disease. If any of these problems present themselves, it doesn't mean you're disqualified from getting Lumineers – it just means you need to have these issues treated first. Cosmetic smile makeovers are only successful when they are applied on a healthy foundation.
Preparation: An impression of your teeth will be taken and you will make decisions about the size, shape, and shade of your Lumineers. Cerinate porcelain, which is what Lumineers are made of, are easy to adjust for color. You don't just want your teeth to be white, you want them to be carefully adjusted for opaqueness and translucency. Natural teeth reflect light and for your smile makeover to look real, Lumineers need to do the same.
Creation: Instructions for the creation of your unique Lumineers are sent to the dental lab to be customized just for you. It can take a few weeks for the porcelain to be ready.
Application: Once your personalized Lumineers are ready, your dentist will apply them and confirm that their size, shape, length, and appearance are as they should be before bonding them in place with a special curing light. At that point, you will have a stunning smile makeover that is long-lasting, natural-looking, and confidence-boosting.
Benefits of Lumineers
Besides replicating the appearance of natural teeth and being made of very thin, super-strong Cerinate porcelain which reduces the chance of chips or breaks, Lumineers conceal a wide range of cosmetic complaints like:
Stains and discoloration
Misaligned teeth
Gapped teeth
Crooked teeth
Short teeth
Asymmetrical teeth
Narrow smile
Misshapen teeth
With the right creation and application, Lumineers deliver a brilliant, white, beautiful smile that looks, feels, and works just like natural teeth. If you maintain good oral hygiene at home and see your Red Bank family dentist regularly for check-ups and teeth cleanings, your smile makeover will last for a very long time.
Get Lumineers in Red Bank
Want to upgrade your smile without permanently altering your teeth underneath? Lumineers could be the answer, though most people who undergo this procedure never need to worry about the condition of their teeth underneath again – they love their smile makeover so much they never want to reverse it even though they can.
Find out if this non-invasive alternative to traditional porcelain veneers is right for you. Schedule a consultation with Dr. Carole Sherrod Jewell at Red Bank Dentistry in Red Bank, NJ.