Red Bank Emergency Dentist
Do you have a dental emergency? Call us now at 732-945-7855.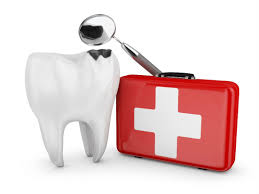 If you are experiencing any of the following oral health problems, contact your Red Bank emergency dentist immediately for advice and treatment:
Knocked out tooth
Dislodged tooth
Severe tooth pain
Mouth trauma
Jaw injury
Broken tooth
Chipped tooth
Excessive bleeding
Loose crown
Lost filling
Do You Have a True Dental Emergency?
Any oral health problem that threatens the teeth and tissues in your mouth is considered a dental emergency. If these issues are not addressed immediately, bigger complications can develop and could lead to tooth extraction, tooth loss, infection, and more extensive repairs.
Don't wait until your next dental check-up and cleaning to find out whether you have an oral health emergency. The problem will not go away on its own.
At Red Bank Dentistry, we take every dental concern seriously. Contact us immediately if you have a concern and find out whether you need to be seen on the same day.
Let Your Red Bank Dentist Decide If You Have an Emergency
Some dental emergencies are obvious, others are more difficult to diagnose as an acute condition or one that can wait for treatment. Here are some things to consider:
If your tooth is knocked out completely, moved out of place, or badly broken, this is a problem that needs to be dealt with right away if you want any chance of saving the tooth and avoiding a dental restoration.
If you have a severe, debilitating toothache that makes you feel weak, dizzy, or feverish and inhibits your ability to go about your daily life, the problem could be tooth decay or a gum or root infection. These problems need immediate attention to relieve your discomfort and save the tooth.
If you have red, swollen, pus-filled, or oozing gums, this could be a sign of an infection or abscess, both problems that could land you in the hospital if they aren't treated quickly.
If you have a broken tooth, you may not have any pain, but this is still a big problem that needs speedy treatment to avoid bacteria or food particles getting into the tooth and roots and causing an infection.
If you suffer mouth or jaw trauma, and this injury is followed by sudden pain or bleeding, be sure to notify your dentist immediately. Even though there may not be a visible problem with your oral health, hairline cracks, breaks, or damage under the gumline could be lurking.
If you have damaged dental work, like a loose crown, lost filling, or dislodged dental bridge, these issues should be tended to as soon as possible to prevent further complications from developing, but they may not require same-day treatment.
If you have a chipped tooth or broken veneer, the problem is often more cosmetic than anything, depending of course on the location and severity of the chip. Let your dentist make the call about whether you need to be seen right away.
Every dental emergency will be evaluated on a case-by-case basis. Some of the most common repairs can include tooth extraction, root canal therapy, dental restorations, and cosmetic dentistry.
Contact Your Red Bank Emergency Dentist
Not every dental emergency requires a same-day visit to your Red Bank emergency dentist, but it is important to let your dentist decide on the best course of action. Every dental problem has a solution – but we can't help unless you reach out. If you suspect a dental emergency, contact us now to find out if you need to be seen right away.