by Dr. Carole Sherrod Jewell, DMD, Red Bank, New Jersey Dentist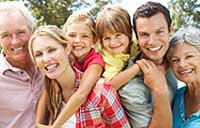 Have a significantly damaged, decayed, or a missing tooth (or teeth)? Dr. Sherrod Jewell may recommend a porcelain crown or dental bridge to repair your smile.
How Porcelain Crowns (Caps) Work
Dr. Sherrod Jewell prepares the tooth to place a crown (or cap) to the top of your tooth to completely cover your damaged or decayed tooth. The crown protects the tooth, while restoring it to its original size and shape. Crowns are typically used when a cavity is too large to be filled. Tooth-colored porcelain crowns are the most popular type because they blend well with existing teeth.
Reasons for Tooth Crowns:
Tooth decay
Fractured tooth
Broken filling
Large filling
Cosmetic appearance
Tooth with a root canal
What is the Process of Receiving a Crown?
At the initial visit Dr. Sherrod Jewell will numb your tooth so that it can be prepared for your new crown. Preparation involves removing decay and shaping the outside of the tooth. An impression is taken to make the crown and then Dr. Sherrod Jewell will place a temporary crown to protect the tooth while the permanent crown is being made.
When you come for your second appointment, Dr. Sherrod Jewell will remove the temporary crown and clean the tooth thoroughly. Then the new crown will be inserted. Dr. Sherrod Jewell will continue to check your crown during regular dental exams.
Fixed Bridges
Crowns can also be used as part of a dental bridge, which is used to replace a missing tooth. The bridge is usually made of metal and porcelain that connects two crowns on either side of the gap and has an artificial tooth in the middle.
Reasons for a Fixed Bridge:
Replace a missing tooth
Maintain facial shape
Cosmetically improve a smile
Replace a removable partial denture
Keep remaining teeth in position
Restore chewing and speaking ability
What is the Process of Receiving a Fixed Bridge?
It usually takes a minimum of two visits to for Dr. Sherrod Jewell to prepare and place a fixed bridge. First, Dr. Sherrod Jewell numbs your teeth and then prepares the two anchor teeth. This involves removing the enamel so that there is room for the crown. Next, a mold is made to send to the dental lab so that the bridge can be created. A temporary bridge will be placed while you wait for your new bridge to be completed.
When you return for your second visit, the permanent bridge will be adjusted and then cemented. Sometimes the dentist only temporarily cements the bridge so that the teeth and tissue can have time to adjust. In that case, Dr. Sherrod Jewell permanently cements the bridge during a later appointment.