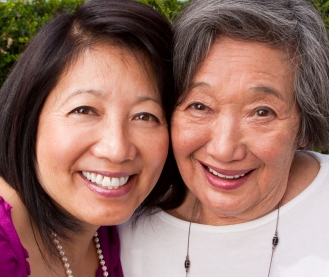 Braces are for teenagers, right? Not anymore! Invisalign has made it possible for people to get braces at just about any age, starting with those tween and teen years and moving right on up to middle age and beyond.
What kind of Invisalign wearer are you? >>
Invisalign for Teens
You'd be hard-pressed to find someone who really wants to be a "metal mouth," least of all a teen in the throes of adolescent angst. Discomfort is already rampant in a teen's daily life and changing body. If there is one thing you can do to ease the growing pains of your tween or teen, it's to find out if they're a good candidate for Invisalign.
The makers of Invisalign conducted studies and discovered that 92 percent of teens admit that traditional metal braces make them feel isolated from their peers. Any young person's burgeoning confidence can easily be damaged by a mouth full of metal. But teens who use Invisalign report that they have a boost in their self-esteem. Enter Invisalign Teen, the orthodontic system designed specifically for teens. The aligners are even equipped with a "wear indicator" in the shape of a blue dot which fades over a period of time if the aligner is worn as instructed. And, as it turns out, worrying about your teen's commitment to this method of orthodontia may be unfounded. According to more Invisalign research, teens are more reliable than adults about wearing their aligners 20 to 22 hours a day.
Invisalign does more than just straighten teeth >>
Invisalign for Adults
No matter what age you are, one of the best facts about Invisalign is that there are zero restrictions when it comes to the food you eat. Wearers of traditional metal braces must be careful about chewy or tough foods that might damage their brackets or wires, and they often have concerns about foods getting stuck in their braces. Invisalign aligners are easily removed for every meal and snack so that you can eat whatever you want, whenever you want.
And, of course, the biggest benefit of Invisalign is that it's practically invisible. You can go about your daily life, whether that includes working, parenting, or otherwise, without anyone knowing that you're undergoing orthodontic treatment. Your smile will get straighter over time and suddenly you'll look better than ever with an aligned smile. Invisalign offers freedom for adults who don't want to be held captive by the appearance of metal braces – you can attend every meeting, date, or special event while your orthodontia flies under the radar.
Beyond the basics: Your biggest Invisalign questions answered >>
Invisalign for Baby Boomers and Beyond
Some people have gone a lifetime wishing for straight teeth. But they're not about to make the leap into traditional metal braces at the age of 50+. Enter Invisalign. It is never too late to improve your smile. Adults can appreciate the benefits of Invisalign even if they've lived with a crooked or misaligned smile for most of their life. Or perhaps you're a candidate for Invisalign because you didn't wear your retainers after traditional metal braces at a younger age and your teeth went back to their original misaligned positions.
Invisalign is the key to straight smiles for people who are self-conscious about their misaligned teeth and who want a smile that they can be proud of. Learn more about Invisalign and find out whether you're a good candidate for this innovative orthodontic treatment. Make your appointment with Dr. Carole Sherrod Jewell, a certified Invisalign provider at Red Bank Dentistry in Red Bank, New Jersey.