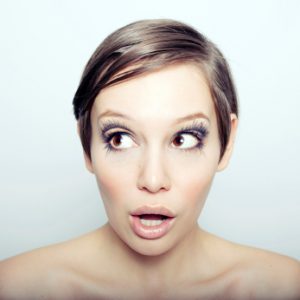 Always coveted the straight smiles of other people? That alignment can be achieved in a few different ways. Porcelain veneers create an impeccable set of teeth while also fixing other cosmetic issues. And Invisalign straightens teeth completely under the radar. Both choices are viable, effective, and utterly transformative, but your dentist can tell you for certain what option is best for you. 
The Benefits of Porcelain Veneers and Lumineers
If you're looking for a "quick fix" for your smile, porcelain veneers may be your top choice. In usually just two visits to the dentist you can have a customized smile and a perfect alignment of teeth that flatter you and look natural. 
Veneers are incredibly durable, long-lasting, and resistant to chips and stains. They're a versatile cosmetic dentistry solution that can help straighten your teeth, but also correct gaps between teeth, overlapping teeth, broken teeth, and discoloration. Veneers eliminate the need for any sort of orthodontia and, often, any other type of cosmetic dentistry. 
For an even less-invasive version of porcelain veneers that preserves the original tooth structure, there is the option of Cerinate Lumineers, often called the gentle alternative to veneers. Lumineers can work the same magic as veneers, reshaping, lengthening, and straightening teeth to utter perfection. This solution is different from veneers because Lumineers are incredibly thin and, believe it or not, even stronger than porcelain veneers. 
Dental innovations: 4 reasons to love the modern dentist >> 
The Benefits of Invisalign
There are some dental problems that simply cannot be corrected without cosmetic dentistry. But when you're seeking a straight smile and your teeth are otherwise healthy and attractive, Invisalign braces are a wise choice of treatment. The best part is, they're practically invisible, which means you can alter the alignment of your smile without anyone else needing to know about it. You can go about your personal and professional life as always. 
Invisalign's clear aligners are just as powerful in straightening teeth as traditional metal braces. They can correct tooth crowding, overlapping, underbites, and overbites. And the perks of Invisalign are many. Because the aligners are removable, you take them out for every meal which means your diet isn't interrupted and you can still enjoy your favorite foods. The aligners are also smooth, which eliminates the undesirable side effects of metal braces – poking and scraping of the gums, lips, cheeks, and tongue from braces and wires.
The numbers game: Quantifying the Invisalign experience >>
Make the Right Choice for Your Smile
Whether you choose Invisalign or porcelain veneers, both solutions will result in a straight, gorgeous smile that will not only make you look and feel better, it will boost your self-confidence and make caring for your new smile that much easier. Talk to Dr. Carole Sherrod Jewell about your goals for your smile, and find out whether porcelain veneers or Invisalign are right for your smile. Contact Red Bank Dentistry to schedule your free initial consultation.