Repair Your Smile with Porcelain Veneers or Lumineers
by Dr. Carole Sherrod Jewell, DMD, Red Bank, New Jersey Cosmetic Dentist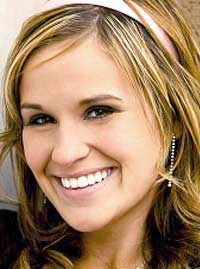 Are you embarrassed by damaged, discolored or spaces between your teeth? You are not alone.
Many people lack the confidence to smile because they are embarrassed about the way their teeth look. With porcelain veneers and LUMINEERS®, it is possible to bring back your smile in a way that looks completely natural.
What are Porcelain Veneers?
Veneers are thin, custom-made tooth-colored and shaped pieces of porcelain that cover your natural teeth. Dr. Sherrod Jewell can choose the best veneer for each individual patient based on the size, shape, and color of their existing teeth and then apply them to remove imperfections. There are many situations in which porcelain veneers can be helpful:
Misaligned teeth
Teeth with gaps
Chipped or broken teeth
Discolored teeth
Porcelain veneers can improve all of these dental issues, leaving you with a smile you can be proud of.
The Application Process
It usually takes two visits for the dentist to apply porcelain veneers. During the first visit you and Dr. Sherrod Jewell will choose the size, shape and color of the veneer. Then she will minimally reduce the tooth if necessary and take impressions to send to the laboratory for preparation. When your porcelain veneers or Lumineers are ready, Dr. Sherrod Jewell will use a specially selected tooth-colored cement to bond them to your teeth. A special light is used to set the cement. Then Dr. Sherrod Jewell will check your bite and make sure that the fit is perfect.
Lumineers: Another Option
Porcelain veneers are a great option, but there is a specific style of veneer called LUMINEERS® which has even more benefits. LUMINEERS® give you the same beautiful smile but last longer and are easier to apply. The procedure is also completely painless.
LUMINEERS® are even thinner than regular veneers. And because they are ultra-thin, none of the natural tooth has to be removed. That means no drilling and no injections!
LUMINEERS® are constructed from Cerinate® porcelain, which makes them incredibly strong, reducing the chance of chips or breaks. Cerinate® porcelain is also easy to adjust for color, which means that the veneers can be adjusted for different levels of opaqueness and translucency.
How are LUMINEERS® applied?
Just like with regular porcelain veneers, the first visit includes:
An impression
Color choice
Then the mold is sent to the lab to be custom-crafted. The difference is, your teeth do not need to be shaved down, which is the part that can be uncomfortable.
During the second visit, the dentist applies the LUMINEERS®. The dentist then uses a special curing light to set the LUMINEERS®. They can stay in place for up to 20 years.
It is important that patients have no sign of gum disease or tooth decay before having LUMINEERS® applied because the bone and gums must be healthy. The dentist will treat any dental issues prior to application.
Ask Dr. Sherrod Jewell which type of veneer is best for you. You will receive care instructions for veneers, no matter which treatment your dentist recommends. Proper brushing, flossing and regular dental visits are an important part of extending the life of your new veneers.