Orthodontic Treatments
by Dr. Carole Sherrod Jewell, DMD, Red Bank, New Jersey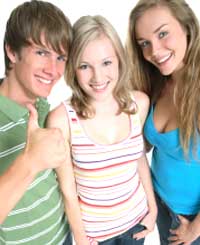 Dr. Carole Sherrod Jewell DMD is a general dentist specially trained in orthodontics providing metal braces and "Invisalign Braces" in Red Bank, New Jersey.
Invisalign is a faster and more affordable way to straighten your teeth than traditional metal braces. Invisalign Braces are the virtually invisible way to straighten your teeth with no "metal mouth" braces.
Orthodontics is a dental specialty which involves straightening the teeth and aligning the jaw through tooth movement and guidance. Orthodontics also can treat bite irregularities called malocclusions, which is what happens when teeth don't fit together perfectly.
Whether you need Invisalign braces, traditional metal braces or a modern custom-made removable appliance, Dr. Sherrod Jewell can help you achieve the beautiful smile you are searching for.