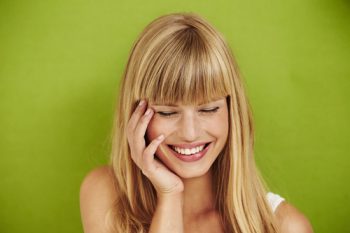 Whatever you think you may or may not know about Invisalign, there is always more to be known, and misperceptions that can be clarified. The truth is this: Invisalign works for many teens and many adults, and you don't have to make any excuses about why you cannot wear Invisalign. If you need orthodontic treatment for aesthetic reasons alone or to improve chronic oral health problems, Invisalign gets the job done, under the radar.
Here are just five of the excuses people make about why they think they can't wear Invisalign:
1. "I don't have time."
Invisalign treatment actually saves adults time. While traditional metal braces require visits to the dentist every four weeks or so (more often if wires or brackets break or dig painfully into gum, cheek, or lip). Invisalign check-ups are only about every six weeks, and at each appointment you reach milestones – new sets of aligners to take home with you and change out as your dentist's Invisalign treatment plan explains. And, orthodontic treatment time, for many patients, can be cut in half with Invisalign
6 ways to have success with your Invisalign treatment >>
2. "I'm getting married!"
Congratulations! Marriage preparation is a perfect time to begin your Invisalign treatment. Whether your wedding is two months or two years away, you have an opportunity to begin making a dent in your tooth alignment, or completely align your smile with the help of Invisalign. And the good news is that through the engagement photos, bachelorette party, and the big day itself, Invisalign will not get in the way because the aligners are so difficult to see on someone's teeth.
5 tips for wearing Invisalign when you socialize >>
3. "I like food too much."
Braces may conjure up 1980s teen movies of metal mouths lamenting over chewing gum or pizza, but this is a new decade and Invisalign doesn't want to get in the way of your appetite. Invisalign aligners can be easily removed for every meal so that you can fully enjoy every treat you love. There are no food restrictions while wearing Invisalign. There are, however, cleaning rules: Brushing your teeth after eating before you put your aligners back in your mouth (so bacteria doesn't get trapped); and, you cannot eat while wearing the Invisalign aligners – you can only drink water. The pressure of eating could break your aligners, and that's not a good thing.
4. "It will get in the way of my job."
If anything, Invisalign will improve your professional status. If you have crooked or gapped teeth and hold a prominent role in your field, then you probably have eyes on you from time to time. If you work in a sales field or spend your days presenting cases, lesson plans, or products, your teeth matter. And how your teeth look reflects on who you are as a person. Aligning your teeth in a barely noticeable way with Invisalign can improve your professional life.
5. "It will hurt."
Here's the thing about orthodontics: Yes, there will be pressure in your mouth from time to time, especially when starting a new series of aligners. But if you were wearing Invisalign and didn't feel any strain at any point, you should start to get worried about whether the treatment is working. There is an adjustment period for Invisalign, as with any other orthodontic treatment. The great thing is that once you're used to Invisalign, you will barely know it's there, and on one else will be the wiser.
6 ways to know if you're a good candidate for Invisalign >>
Time to stop making excuses and start getting your teeth and smile in alignment. Make an appointment with Dr. Carole Sherrod Jewell at Red Bank Dentistry in Red Bank, NJ, to find out if Invisalign is right for you.