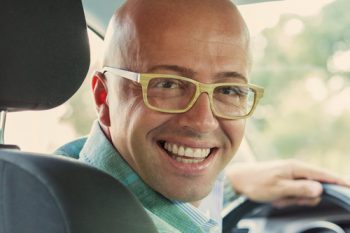 If you've ever wondered, "Could I wear Invisalign?" the answer is clear: You want straight teeth, so it's time to pursue the options available to you. Your Red Bank Invisalign dentist will have the final say on whether or not you are an ideal candidate for Invisalign. However, there are several ways to know right now whether or not you might make a good candidate for this revolutionary orthodontic treatment.
What kind of Invisalign wearer are you? >>
You want straight teeth but you don't want anyone to know.
Wanting to go unnoticed when you're undergoing orthodontic treatment is not an unusual feeling. Plenty of people who wear braces would much prefer not to advertise their metal mouth to the world. Invisalign-wearers, however, have nothing to be ashamed of or worried about. Their smiles are only transformed in a good way – slowly but surely straightening out into a gorgeous smile makeover.
Mind your gap? Invisalign could be the solution >>
You don't want braces to get in the way of your life.
Adult or teen, your personal life is no doubt important to you. The last thing you want is for any major events or moments to be interrupted by braces. With Invisalign braces, you will have the ability to remove your clear aligners for meals, special occasions, photo ops, and more.
You're more concerned about your job than your teeth.
If you've long wanted straight teeth but haven't had the time to go after an aligned smile, your job may be holding you back. It's possible that your concerns about how coworkers, clients, and customers would react to your orthodontic treatment are preventing you from getting the straight smile you want. Invisalign doesn't get in the way of your career – but having straight teeth can absolutely improve your work. When you're confident about how your teeth look, you'll be more inclined to speak up and make yourself known in the office.
Invisalign does more than just straighten teeth >>
You don't want any food restrictions.
If you didn't undergo orthodontic treatment as a teen but regret it now, what's preventing you from going after Invisalign? Perhaps you have concerns about the same things you worried about as a teen – like being restricted from eating your favorite foods. There are no food restrictions when it comes to Invisalign. You only need to remove your clear aligners before you eat or drink. So chow down on the chewy pizza crust, crunchy fruits and veggies, and robust proteins. You can even indulge in your favorite sticky candies – as long as you properly clean your teeth and Invisalign aligners afterward.
You're a stickler for following directions.
The most conscientious patients have the greatest success with Invisalign. You must be willing to wear the aligners 20 to 22 hours every day for the course of your entire treatment. And if you cheat, your dentist will know – wear indicators on the aligners fade over time when the aligners are worn as indicated. Plus, certain teeth are designed to move at certain times – if that doesn't happen with your teeth, your dentist will know why.
5 things you need to know before you wear Invisalign >>
You are desperate for better oral health.
You know that brushing and flossing alone aren't going to get you the kind of smile that you want. Aligning your teeth with Invisalign can also correct issues like teeth grinding, recurring cavities, and even gum disease.
4 reasons why so many people love Invisalign >>
You don't have time to go to the dentist.
Invisalign is designed to be hassle-free, and that includes fewer visits to your Red Bank Invisalign provider and more hands-on, at-home work. Convenient and efficient, Invisalign makes the job of straightening teeth go much more quickly and with less time spent in the dentist's chair.
Make your appointment with Dr. Carole Sherrod Jewell at Red Bank Dentistry in Red Bank, NJ, to find out if you are a good candidate for Invisalign.