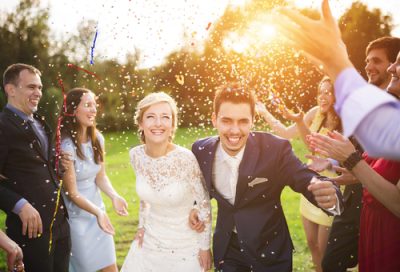 Whether you are the bride or groom or a member of the wedding party, your smile will be on display all day long. Even if you're a wedding guest (or a wedding crasher), you won't want to be the only person hiding their smile on such a happy day. Are your teeth ready to be on camera? Invisalign can help correct what's out of alignment.
Don't let braces interrupt your lifestyle: 4 reasons to choose Invisalign >>

Are You the Main Attraction? Don't Neglect Your Smile
People who are getting married or standing up for someone in a wedding know they'll be under scrutiny. There is a desire to get the details just right – hair, nails, shoes, dress, tux, and even weight. What about that all-important focal point of your face? Your smile.
As you go about your planning for the big day, make sure a visit to your Red Bank dentist and Invisalign braces provider is included. You can significantly alter your appearance (even if those last pesky five pounds refuse to budge) when Invisalign is working hard to straighten your teeth. Your smile will be so joyous and gorgeous in person and in photos that you won't think twice about any little flaws that may interrupt your day.
Bride-to-be? Invisalign is your new BFF >>

Single and Looking? Hope Your Smile Is On Point
Every single wedding guest, whether they admit it or not, envisions meeting their own future Mr. or Mrs. when attending a wedding. If you're tired of online dating, and you happen to know that someone you'd like to be "the one" will be catching the bouquet at an upcoming nuptial, get your smile in tip-top shape before the big event.
Even if you're wearing Invisalign while you're at a wedding, it won't be noticeable. The nearly invisible aligners are so super-thin and clear that you would have to point them out for someone to be aware of them.
If you want to look like your most adorable and lovable self, Invisalign can give you an advantage. Finish up your orthodontic treatment with professional teeth whitening, and you'll blow away all the single ladies (or gents) with your flawless smile.
What kind of Invisalign wearer are you? >>
Divorced and Jaded? A Smile Makeover Can Change Your Outlook on Love
When you are divorced, going to a wedding can feel like torture. But if this is one event that you can't bow out of, you might as well feel like the very best version of yourself (especially if your ex is going to be there). Invisalign can get you on the right road to the post-divorce smile makeover that will make you more appealing, confident, and happy.
Learn more about Invisalign and find out whether you're a good candidate for this revolutionary orthodontic solution. Make an appointment with Dr. Carole Sherrod Jewell at Red Bank Dentistry today.