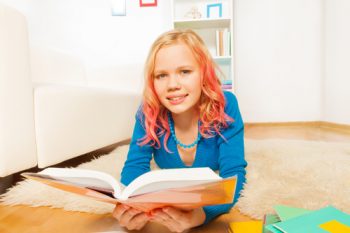 High school is a social game. No matter how mature your teen is, the last thing he or she wants is to stand out for the wrong reasons. Braces are a rite of passage for many teens, but if you could minimize the awkwardness of the orthodontic process for your child, wouldn't you? Invisalign Teen makes it possible.
4 reasons so many people love Invisalign >>
Invisalign Teen Can Change Your Adolescent's Life
Here are some of the things your teen worries about most in school:
How he looks.
How she sounds.
How he is perceived.
Whether she is liked.
Whether peers are going to make fun of him.
Fitting in.
While a teen wearing traditional metal braces would not be the minority, that doesn't make the acceptance of metal brackets and wires any easier. Ninety-two percent of teens say they feel isolated from their peers because of wearing traditional metal braces, according to research conducted by the makers of Invisalign.
Your back-to-school dental health checklist >>
What Your Teen Will Love About Invisalign
Invisalign Teen is designed specifically for the teen orthodontic patient. Your teen will love so many things about Invisalign that they will be encouraged to wear their aligners religiously and as instructed. (And if they don't, your Red Bank dentist will notice. Each aligner has a Blue Dot wear indicator that shows whether the aligner has been worn enough.)
Just some of the perks of Invisalign that your teen will love:
The Invisalign aligners are practically invisible. (Go to school every day without anyone being the wiser about your braces.)
Invisalign is removable. (Special events or moments won't be interrupted by anything.)
There are no eating restrictions. (No complaints about not being able to eat pizza, gum, or favorite snacks.)
Brush and floss as usual – no special tools needed. (No griping from Mom and Dad about not cleaning properly.)
5 things you need to know before you wear Invisalign >>
What Parents Will Love About Invisalign
Invisalign can correct the same problems as traditional metal braces. Plus, Invisalign is easy to use. While any wearer of Invisalign must be responsible, take care of their aligners so they are clean and remain clear, and wear the aligners for at least 20 to 22 hours a day, every day, until the end of treatment, you might be surprised to know that, according to the makers of Invisalign, teens are more reliable than adults about wearing Invisalign as indicated and following the rules of this orthodontic method.
Think your teen can handle Invisalign? We do. If you want to do everything you can to improve your teen's self-confidence, find out if your teen is a good candidate for Invisalign. Braces are often necessary, but they don't have to make your adolescent uncomfortable or unhappy. Make an appointment with Dr. Carole Sherrod Jewell at Red Bank Dentistry in Red Bank, NJ, to find out if Invisalign and your teen can be at the head of the class.