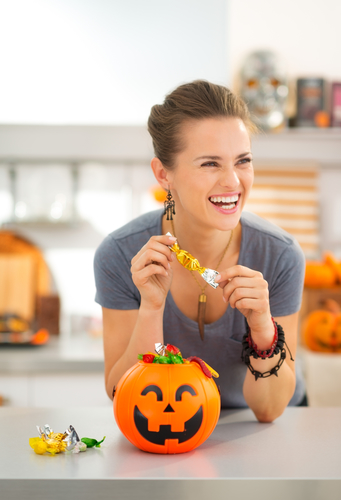 Normally, people who are undergoing orthodontic treatment are disgruntled about Halloween. All that delicious candy on the do-not-eat list for braces-wearers – at least, it's forbidden if you want to avoid damaging your brackets and wires. Invisalign wearers, however, have nothing to fear when it comes to Halloween candy. This day of the year is just one more party they have the freedom to enjoy without restrictions.
Here are just 5 reasons Invisalign wearers love Halloween:
1. No interference with Halloween costumes.
OK, if you're planning to be a vampire, you may have trouble slipping in the fake fangs over your clear Invisalign aligners. Otherwise, Invisalign won't interfere with your spooky, historical, or trendy Halloween costume. You can keep the aligners in all night, and no one will be the wiser.
5 tips for wearing Invisalign when you socialize >>
2. Avoid overindulging.  
It is tempting to go crazy with candy and treats on Halloween. But those Reese's Cups and Twizzlers will still be around the day after Halloween, and every day after that. If you're watching your waistline, Invisalign is already helping in that department by reminding you to think before you eat. This perk is especially helpful on Halloween when you want to have fun but don't want to end up with a stomachache or an overindulgence of candy calories.
Adults can wear braces too, thanks to Invisalign >>
3. Eat whatever candy you like.
Whether chewy, crunchy, sticky, or something else, your favorite candy will not go abandoned this Halloween. All you do is pop out your nearly invisible aligners and dig into some serious sweets. Just be sure to rinse with water after you eat if you can't brush. You don't want Invisalign sitting on top of sugar-coated teeth.
4. Enjoy taking pictures and selfies.
Who doesn't need a good selfie on their social media feeds for Halloween. Smile big and smile often on Halloween, whether you're in costume or just posing with the kids. Invisalign is so unnoticeable that no photo will reveal your orthodontic treatment – it'll just be you, with straighter teeth.
Choose Invisalign, because braces don't have to interfere with your selfies >>
5. Look better in costume.
If you're looking for the perfect accessory for your Halloween costume, your smile is it. The focal point of your face, even if it's in poor condition, your smile will dictate whether you (or your kids) get treats or tricks on All Hallows' Eve. Invisalign is practically impossible to detect, so you can sport a better-looking smile, whether you need it to be princes perfect or warily witchy.
5 excuses people make about why they can't wear Invisalign >>
Dr. Carole Sherrod Jewell at Red Bank Dentistry is an experienced Invisalign provider. Make an appointment to discuss whether you are a good candidate for Invisalign. And have a safe and happy Halloween!