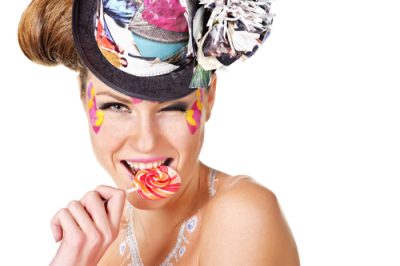 Consumers spend billions of dollars on Halloween candy every year. From chewy to crunchy, chocolatey to gummy, all manner of sweets are available to satisfy your cravings. But many braces-wearers are limited in the kind of candy they are allowed to consume. Whether adult or teen, such restrictions can make October 31 and the weeks surrounding it a little bit of a bummer. For the patients who wear Invisalign, no candy is taboo, but there are best practices to follow to ensure that your oral health doesn't get spooked.
4 reasons why so many people love Invisalign >>
Wearers of traditional braces have to cope with wires and brackets and rubber bands. This sounds like a lot of hardware in the mouth, and it is. Even though braces have come a long way in recent decades, shrinking in size and being offered in clear and fun colors, there are still drawbacks, and one of them is a long list of food restrictions.
The last thing you want to do is damage your braces and have to make a trip to the dentist for emergency repairs. You won't be able to tolerate a wire poking into your gum, lip, or cheek for very long, and no one wants a dental visit to take the place of holiday festivities.
Invisalign is the best costume for a braces-wearer. You can dress up in whatever costume you like and your image won't be marred by a mouthful of metal. Best of all, you can enjoy any Halloween treat you want, as often as you want, with the flexibility of Invisalign.
While you have zero restrictions on food as an Invisalign-wearer, there are some points to keep in mind so that your oral health as a whole doesn't go down the tubes because of overindulgence in October:
Make it quick. When you spoil your sweet tooth on Halloween, you may love savoring every last bite. Please, enjoy. Just remember that it's a better idea to nosh on your favorite Halloween treats in one sitting than to snack on them all day long. Not only are you unlikely to want to remove your Invisalign aligners for every snack bar or wrapped candy you come across, eating throughout the day without brushing keeps your teeth bathed constantly in sugar and acids. That's a perfect setting for the blooming of tooth decay.
Clean up. After you eat your candy snack or dessert (and, frankly, this is a rule for after every meal), as an Invisalign-wearer it will be time to pop your clear aligners back in your mouth. But the last thing you want to do is have sugar stuck in between your enamel and snug-fitting aligners. Always brush, or rinse with water at the very least, to ensure that you're not egging on tooth decay by poor Invisalign-wearing practices.
Never get lazy. If it seems like one tiny piece of candy can't possibly harm your Invisalign aligners, think again. The point of Invisalign is to straighten your teeth under the radar. If you eat with your aligners in, they are likely to become stained or discolored. Plus, the aligners are not made to withstand the pressure of teeth that are chewing food, and they could break under the strain. Invisalign is an opportunity to think twice about your diet and whether you really want to eat that piece of candy – not only is this orthodontic method good for your teeth, it can whittle your waistline too, if you make the smart choices.
Treat yourself this Halloween. When you're ready to talk about Invisalign, make an appointment with Dr. Carole Sherrod Jewell, a certified Invisalign provider at Red Bank Dentistry in Red Bank, NJ.