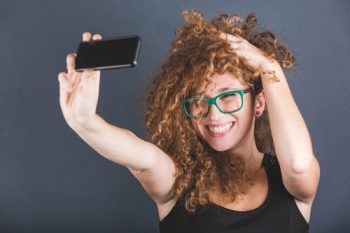 Whether you are a member of the Millennial generation, Generation X, Generation Z, or the Baby Boomers, you are likely familiar with the lure of social media and smartphone selfies. Sharing moments of your life online through photos and videos can be addicting and satisfying, especially when you keep accruing "likes." But if braces are in your future, you may lament how your photos will appear for the next few years. Invisalign can change all of that – in a good way.
5 things you need to know before you wear Invisalign >>
Stunted Selfies
When you wear traditional metal braces, you will find yourself altering your smile. There could be many reasons for this:
You're self-conscious about the metal on your teeth.
The brackets and wires make it uncomfortable to smile.
You're afraid you have something stuck in your braces.
You don't want your braces to be the only thing people see.
When you change your smile to hide your braces, your appearance changes too. Some people may embrace this opportunity to look different, be a chameleon, try on different poses for their selfies. More common, however, is a feeling of missing the selfie freedom you once had.
You shouldn't have to think so hard about smiling. You shouldn't have to practice different smiles in the mirror to hide your metal braces. You should be able to smile just because.
8 reasons to fall in love with Invisalign >>
Smiling with Abandon
Then there is Invisalign. When you wear the nearly invisible aligners, no one will notice. In fact, you may take more selfies and test your followers to guess what's different about you. Your friends and family will find it difficult to pinpoint the change – unless, of course, they notice that your teeth are getting straighter and straighter.
Invisalign is intended to fly under the radar. Adults and teens alike should be able to enjoy the process of getting a perfectly aligned smile. There is nothing wrong with traditional metal braces – they get the job done. But when Invisalign can get the same job done, in a fraction of the time and without being noticeable, it's obvious which orthodontic choice is best for you.
Benefits of Invisalign
Along with the major benefit of Invisalign being nearly impossible to see on your teeth, there are plenty of other perks:
Less time in the dentist's chair. You are sent home from your Red Bank dentist with a supply of aligners that will last for several weeks. You will be told when to change the aligners in order to move your teeth according to the customized orthodontic plan laid out for you.
Freedom to eat what you like. One of the biggest complaints of braces-wearers is not being able to eat their favorite foods for years at a time at the risk of damaging their brackets or wires. Invisalign-wearers can eat whatever they like. You simply remove the aligners before a meal or snack.
Easy to clean. Metal braces-wearers need special tools to get in and around their braces so that food and plaque do not settle in and cause stains or decay. Invisalign makes it possible to brush and floss your teeth thoroughly and normally, keeping them super-healthy while you're aligning your smile.
The benefits of Invisalign are plentiful. Find out if you're a candidate for Invisalign. Contact us and make an appointment with Dr. Carole Sherrod Jewell at Red Bank Dentistry.