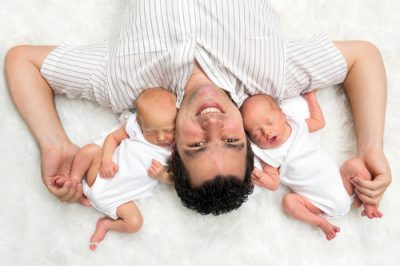 New dads tend to get lost in the shuffle of infant needs and the demands a new mom is juggling. At a time when your social life is likely to be on the back burner, your work is status quo, and your partner isn't really paying all that much attention to you anyway, it's the perfect moment to do something for yourself that you've always wanted to do: straighten your smile. Invisalign can help.
The Easy Clean-Up
You have a big enough mess to clean up in your household these days, what with diapers and burp cloths and all that baby paraphernalia. The last thing you want to worry about is taking meticulous care of your smile. With Invisalign, you don't have to do anything super-special. There is no need to pick food from between brackets and wires, or carefully clean between traditional metal braces. Invisalign makes it easy to brush and floss your teeth as normal, and cleaning the aligners doesn't require more effort than some soaking and gentle brushing.
Your biggest Invisalign questions answered >>
Buh-Bye Fat Daddy
During pregnancy, it's not just the mama-to-be who gains weight. Dads have been known to gain a little sympathy pregnancy weight as well, and it's not always so easy for them to shake the pounds once baby is born. A little-known but often appreciated side effect of wearing Invisalign is some weight loss. Wearers of Invisalign become so conscious of how often they're removing their aligners, and whether a snack is really worth it, that they tend to reduce their calorie intake on a daily basis, ultimately resulting in some shed pounds. You're welcome.
5 things you need to know before you wear Invisalign >>
Restore Your Confidence
With sleep deprivation, weight gain, and a feeling of utter chaos and confusion surrounding you, wearing Invisalign can actually lend some stability and normalcy to your life with its constant rules, like no eating while wearing Invisalign and you must wear the aligners 20 to 22 hours a day. Invisalign begins to straighten your smile immediately, and since the aligners are practically invisible, no one needs to know that you're undergoing orthodontic treatment. You'll feel better about yourself, even if you're completely wiped out, and your confidence in yourself and happiness with your smile will shine through, even if you fall asleep in the boardroom or at the dinner table.
A Tolerable Gestation Period
The average Invisalign treatment lasts about 12 months, but some patients wear Invisalign for as short as nine months. (Just think: You and your partner could have another baby before your treatment is complete!) Ultimately, Invisalign takes less time than traditional metal braces, but the process works just as effectively and with far less hassle or interference in your daily life. Teeth are moved just a few at a time, depending on the order in which you have been instructed to wear your customized dental aligners. You can't rush good things – after all, look at that beautiful babe of yours. Invisalign takes time. But if you can have a baby, then you're ready for this kind of commitment.
Just Take the Plunge
As nearly every parent will tell you, you're never completely ready for a baby. Sometimes you just have to take the plunge and hope for the best. The same goes for orthodontic treatment. Of course, your Red Bank dentist will determine if you are a good candidate for Invisalign. But, from there, the process takes care of itself – you just need to follow the instructions as they've been given to you and do your very best to stay dedicated to the treatment you've agreed to undertake. Just like that new baby of yours. Of course, Invisalign will be out of your life after several months – baby is around for the long haul. Good luck!
Find out whether you are a viable candidate for Invisalign aligners. Make an appointment for a consultation with Dr. Carole Sherrod Jewell, a certified Invisalign provider at Red Bank Dentistry.