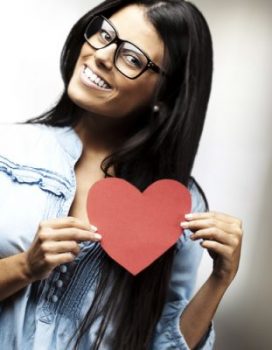 Love and orthodontics don't always go hand in hand. When you're wearing Invisalign, however, you will adore how beautifully and surreptitiously your teeth are moving into alignment. And you won't be shy about showing your love to others. Here are just eight reasons you can (and will) fall in love with Invisalign.
1. Eat whatever you like.
Craving chewy pizza crust? Want to enjoy that cob of corn? Just can't say no to taffy at the beach? You don't have to turn down any foods when you wear Invisalign. Pop out your aligners and dig into the tastes that are calling you.
Invisalign does more than just straighten teeth >>
2. Boost your confidence.
Who doesn't love having a little secret that makes you feel better about yourself? When your teeth begin to straighten out thanks to Invisalign, you will smile more and be far less self-conscious about your teeth. Invisalign is practically invisible so you can go about your day at work, school, or home feeling supremely confident in yourself and your appearance.
3. Clean your teeth easily.
While it is essential to wear Invisalign for 20 to 22 hours a day, you can of course remove the aligners to clean them. And you'll appreciate this convenience because it means you'll be able to brush and floss normally too. No special tools are required to get between brackets and wires like is needed for metal braces.
Avoid the mess with Invisalign >>
4. Avoid constant irritation.
Orthodontic treatment isn't working if it doesn't create some discomfort in your mouth. However, with Invisalign you get used to the feeling of slight pressure as you change to each new set of aligners. With metal braces, you continually endure jabs and pokes from brackets and wires. Your gums, lips, and cheeks can suffer greatly from broken hardware.
5. You could lose weight.
While Invisalign isn't necessarily a recommended weight loss method, you may discover that you make better choices about snacking when you have your aligners to consider. Losing a few pounds could be a delightful side effect of wearing Invisalign.
6. Break bad habits.
You may not consider your ongoing cup of coffee or love of soda to be a bad habit. However, you do your teeth no favors, and put them at risk of developing tooth decay, by sipping on anything throughout the day (unless it's water). Since Invisalign can be easily stained by food and drink, you can't ingest anything but water while wearing the aligners.
7. The aligners are practically invisible.
Who doesn't love an opportunity to improve their smile without anyone noticing? Invisalign allows you to go about your life – professionally and personally – without drawing attention to your orthodontic treatment.
Don't let braces interrupt your lifestyle >>
8. See your dentist less often.
No matter how much you adore your dentist, the less time you have to spend in the dentist's chair the better, right? Unlike traditional metal braces which typically require monthly dental visits for tightening and repairs and check-ups, Invisalign appointments are only about every six weeks. Make an appointment with Dr. Carole Sherrod Jewell at Red Bank Dentistry to find out if you're a good candidate for Invisalign treatment.