Have big plans for the summer?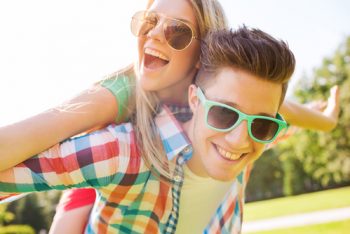 Vacations, reunions, weddings, social events – no one wants their good time interrupted by orthodontics. If you're wearing Invisalign, your summer fun can continue as usual.
8 reasons to fall in love with Invisalign >>
Eat whatever you want.
The last thing you want is to have your summer splurges ruined by metal or brackets on your teeth. Indulge in all the pizza, cotton candy, caramel apples, and frozen treats you want with Invisalign. Simply remove your aligners to eat, and brush (or, at the very least, rinse) before putting the aligners back in your mouth.
Invisalign does more than just straighten teeth >>
Laugh out loud.
Who wants their fun interrupted by embarrassment about their smile and teeth? You won't have to worry about anyone staring at your braces when you're wearing Invisalign. Smile big for the group photos, happily scream on the roller coaster. You won't be shy about speaking up or laughing big.
Choose Invisalign, because braces don't have to interfere with your selfies >>
Look better every day.
Who doesn't want to look good and feel good about themselves during the hot summer months? If you're feeling self-conscious about your smile and teeth, Invisalign helps you gain more confidence every day. The careful and measured schedule for moving your teeth is designed to shift a few teeth at a time. Slowly but surely, your smile will begin to shift into its new aligned place, and your appearance as a whole will improve right alongside it.
Save time.
Traditional braces require a visit to the dentist about once a month, sometimes more often if you're having difficulty with a bracket or wire. Visits to your Red Bank Invisalign provider are only necessary about every six weeks. Every appointment, you will be furnished with your next several sets of Invisalign aligners so that you can follow your dentist's customized treatment plan for the alignment of your smile. That means plenty more time to do whatever you need or want to do in the summer, and less time in the dentist's chair.
5 tips for wearing Invisalign when you socialize >>
Be comfortable.
Once you are used to the feeling of wearing your Invisalign aligners, you will go about your days not even thinking about the fact that you're straightening your teeth all the while. There will be some pressure as you change to a new set of aligners, but that is to be expected – after all, if you're not feeling anything moving around in there, then your orthodontic treatment isn't doing its job.
Summer has just begun. But you don't have to wait until fall or winter when you might be hunkered down in the cold to choose to change your smile. Make your appointment with Dr. Carole Sherrod Jewell at Red Bank Dentistry in Red Bank, NJ, to find out whether you're a good candidate for Invisalign treatment. You can start working on your new smile immediately.