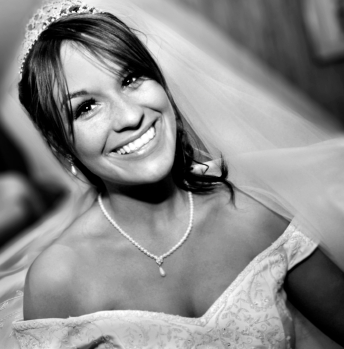 Understandably, a bride wants to look her very best on her wedding day. You diet. Work out. Get your hair and makeup done. You may even pose in the mirror testing out your best new "Mrs." expressions. But do you like what you see when you smile? Whether the wedding is a year from now, six months from now, or just around the corner, Invisalign can be your second maid of honor.
Even Brides Have Time for Invisalign
You may think to yourself, "I'm a bride! I'm planning a wedding! I don't have time for one more obligation!" But if you really want to look your very best on your wedding day, the misalignment of your teeth, the gaps in your smile, or the frustration with your bite can be much improved or completely altered for the better in time for the nuptials.
The typical Invisalign treatment takes about 12 months to complete, but for some people the treatment is as short as nine months, for others it may take longer. The speed in which optimum results are achieved depends on how well your teeth move and your dedication to the treatment. Invisalign must be worn 20 to 22 hours a day to be effective. If you're thinking, "It's only a few months until my wedding – what's the point?" know this – you will begin to notice changes in your smile very soon after beginning your Invisalign treatment. Aren't straighter teeth on your wedding day preferable to misaligned teeth forever?
Planning a Wedding While Wearing Invisalign
Invisalign works by moving certain teeth at certain times during your treatment, a plan that is designed specifically for you by your dentist at the beginning of treatment. That's why the nearly invisible aligners are switched out about every two weeks – so the next teeth can move into their proper position until your entire mouth and bite are in alignment.
There are plenty of excuses to avoid orthodontic treatment when you're planning a wedding, and they are all legitimate. However, it's also easy to argue against them. For example:
When you're testing out wedding cakes or caterers: Invisalign is easily removed when you want to eat. So taste-test all you want and enjoy these sweet moments without worrying about cake crumbs getting stuck in your overlapping teeth (or in brackets and wires of traditional metal braces).
When it's time for engagement photos: Even though Invisalign is practically invisible, you may feel more comfortable posing for photos with nothing in your mouth. So you can do that. Remove your Invisalign trays temporarily to get through your photo session.
When you think you don't have time for one more appointment in your calendar: Invisalign appointments only occur every six weeks or so. You will return to your dentist so she can monitor the progress of your orthodontic treatment and provide you with your next several sets of aligners so you can continue working on your smile on your own.
Oh, and one more thing: Invisalign wearers often find that they lose a few pounds while undergoing treatment because they're more thoughtful about what they eat and are less likely to snack often or sip on soda all day. A diet that you don't have to really work at – isn't that every bride's dream?
Your biggest Invisalign questions answered >>
A New Smile for Your Present and Future
Invisalign is temporary. Your wedding photos are forever. And you only get one day to pose for all those photos – don't you want it to be as ideal as possible? Perfection isn't necessary on the wedding day – in fact, some of the best parts of a wedding are the ones that don't turn out quite as planned. But there's nothing wrong with wanting the very best from your bridal smile.
Ready to learn more about Invisalign and make it part of your wedding planning? Make your appointment with Dr. Carole Sherrod Jewell, a certified Invisalign provider at Red Bank Dentistry.