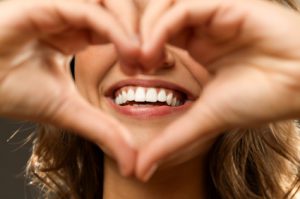 There's no way around the fact that if you're dating online, appearances matter. No one is skimming through a person's online dating profile to read about them – that initial attraction is all based on how you look. But once a potential partner is interested in looking deeper, they'll be seeking photos of you that reveal more of you, especially your smile. And if you haven't shared a toothy grin, they might wonder what you're hiding. If you're ashamed of your crooked teeth or bite problems but feel like a mouth full of metal braces definitely won't enhance your dating life, it's time to learn about the many benefits of Invisalign braces. 
Even if you're satisfied with your online dating profile photos, and they're garnering you the kind of interest you were seeking, you might not have any encounters with people beyond first dates. Is it because your smile is in bad shape? Or maybe it's because you're self-conscious about your teeth and therefore acting more reserved or tight-lipped in person than you were online in order to hide your smile. 
If you're waiting for Mr. or Miss Right to come along, the reality is this: The number one thing that single men and women judge potential dates on are their teeth. And, according to surveys conducted by Invisalign, 38 percent of Americans would consider not going on a second date with someone who has crooked teeth – that's more than the number of people (23 percent) who would ditch someone for still living with his or her parents! 
The numbers game: Quantifying the Invisalign experience >> 
Unlucky in Love? Get the Facts About Straight Teeth
If you're trying to meet your match, the last thing you want to do is sport a metal mouth. Some people might love their traditional metal braces – celebs like Gwen Stefani have proudly rocked their adult "brace face." But most adults would rather have their orthodontic treatment happen unobtrusively. And Invisalign makes that possible. 
When you're wearing Invisalign, you can smile proudly for your online dating profile photos. Out on a dinner date? Discreetly remove your aligners for your meal, eat whatever you want, and then pop them back in when you're finished eating. Ready for that goodnight kiss? Invisalign won't get in the way (and hopefully you skipped any onions or garlic at dinner!). No one will notice the aligners in your mouth because they are virtually invisible. Invisalign is so thin you have to really point out that you're wearing them in order for them to be noticed. A few other facts from Invisalign surveys: 
People with straight teeth who are dating online are 57 percent more likely to get a date based on their picture alone.
Men and women who have straight teeth are connected with more positive descriptions.
People with straight teeth are 21 percent more likely to be seen as happy, 47 percent more likely to be seen as healthy, and 38 percent more likely to be seen as smart.
And, 73 percent of Americans are more likely to trust someone with a nice smile than someone who has a good car, job, or outfit. 
Why you should get a smile makeover after your divorce >>
With Invisalign you can do everything you normally do, which means you'll feel good about yourself. Your own self-image affects how others perceive you, and the confidence you gain with each week of Invisalign treatment will lead to an incredibly big turnaround in appearance and attitude by the time your treatment is complete. And that can only lead to more happiness in your life, whether you've met your perfect match or not.
Dr. Carole Sherrod Jewell is a certified Invisalign provider. Contact Red Bank Dentistry to schedule your free initial consultation and find out whether you're a candidate for Invisalign.