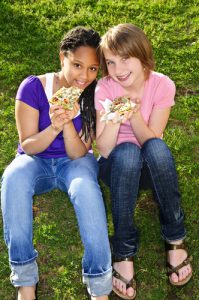 Adolescence is difficult enough without adding braces to the mix. No teen really wants to be a metal mouth. What millennial tweens and teens are lucky enough to have as an option when it comes to teeth straightening and alignment, however, is Invisalign. 
The makers of Invisalign have conducted plenty of studies involving teens to know how this demographic feels about wearing braces. It's not unusual to find a teen whose confidence takes a hit because of brackets and wires, but it might be shocking to learn that 92 percent of teens say traditional metal braces make them feel isolated from their peers. 
Here are some of the other stats about teens that the makers of Invisalign have compiled over the years: 
Twice as many teens who use Invisalign report an increase in their self-esteem compared to teens who wear traditional metal braces.
When it comes to confidence, 40 percent of teens say theirs would take a hit if they had to wear traditional metal braces, while only 13 percent of Invisalign Teen users come to the same conclusion.
Teenagers, believe it or not, are more reliable than adults when it comes to following the rules of Invisalign and wearing the aligners as indicated.
Teenagers have a 68 percent less chance of being teased by their peers when they're wearing Invisalign instead of metal braces. 
From cleanings to Invisalign: Your back-to-school dental health checklist >> 
There are so many teen groups that enjoy major benefits of Invisalign over traditional metal braces, whether a performer, musician, or member of the debate team. Student athletes are less likely to suffer injury when wearing Invisalign. Imagine getting hit in the face or suffering a fall and having a bracket dig into your lip or gum. That will never happen with Invisalign for teens. 
And, of course, growing teens who just want to eat whatever they want whenever they want will appreciate the freedom that Invisalign allows them. They remove the aligners to consume their meals and snacks without having to worry about food being stuck in their brackets and creating the potential for even greater social awkwardness. 
Invisalign: Perfect for the multi-tasking mom >> 
Invisalign's clear aligners make it possible for tweens and teens to straighten their teeth without anyone in their peer group noticing. The aligners – designed specifically for teens – even come with a "wear indicator," a blue dot that fades over time when the aligner is worn as indicated. This perk allows parents and dentists to keep tabs on the teen's compliance with their Invisalign schedule. Every Invisalign wearer does have to wear the aligners at least 20-22 hours a day to gain full effectiveness.
While it may seem that traditional braces are a rite of passage for teens, there's no reason to make any adolescent suffer more than what they already are as they make their way into adulthood. Make an appointment with Dr. Carole Sherrod Jewell at Red Bank Dentistry to find out whether your teen is a candidate for Invisalign.