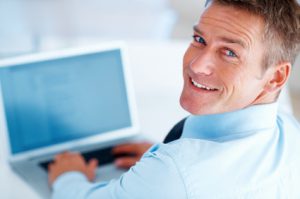 It would be nice to believe that looks really don't have anything to do with your professional life, but if your career involves any sort of face-to-face interaction on a daily basis, your teeth will be one of the first things people see. If your smile is memorable for any reason but a good one, it's time to consider how a broken-down smile might be impacting your success.
Your Smile Affects Your Professional Reputation
While you may not make a living that is dependent on your appearance like an actor or model, the condition of your teeth certainly impact the level of respect, trust, and authority you command. Do you work as a lawyer? Realtor? Salesperson? Public speaker? Your appearance matters and your level of persuasiveness and believability depend on how you present yourself.
The American Academy of Cosmetic Dentistry reports that 74 percent of Americans believe an unattractive smile can hurt a person's chances of career success. Think about how much you spend to look the part in other ways – new suits, shoes, briefcase, handheld device, business cards. You are painting a picture of accomplishment and intelligence. But for every point you gain in these areas, a less-than-stellar smile can make it all moot.
If a client, customer, or colleague deduces that you can't be bothered to take care of your teeth, there's a greater likelihood that they'll think you can't handle a project, promotion, or manage their transaction or case properly. There's a greater chance you may not even land the job you want at all – turns out, it's not all about the resume.
Cosmetic Dentistry Solutions for Busy Professionals
If you are a busy professional, you don't have time to sit in a dentist's chair month after month waiting years for your new smile to materialize. A mouthful of missing, broken, or stained teeth won't be changed overnight, but cosmetic dentistry solutions can be implemented quickly so that your time off the job is minimal. All things considered though, you can't afford not to make time for a smile makeover.
Teeth whitening is a fast, non-invasive cosmetic dentistry treatment that can makeover your look in as little as an hour if you choose professional, in-office whitening. Whitening strips and deep bleaching options are also available.
If you have chipped or discolored teeth, porcelain veneers or Lumineers are your best solution. Lumineers are especially popular with professionals because they require less time in the dentist's chair. They are simply placed over your existing teeth to give you that customized, natural-looking smile you want.
Tooth-colored composite fillings are both healthier and more attractive. Dental implants are the best solution for missing teeth. And, above all, it's crucial to find out if there is any periodontal disease behind a broken-down smile.
The truth is, no matter how confident you are, your confidence can go that much higher if you have a smile that you love to show off. It's time to look like a CEO, even if you're not. Feeling capable of anything can make you capable of anything. Contact Red Bank Dentistry to schedule your free initial consultation and get the smile makeover your career deserves.