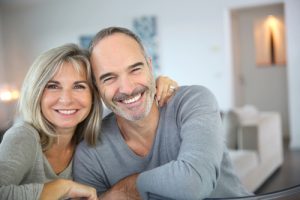 The American Association of Orthodontics reports that the number of adults over the age of 18 getting braces increased by 58 percent (years 1994 to 2010), from 680,000 to 1.1 million people annually. Braces aren't just for teens anymore, especially when Invisalign braces are the epitome of discretion.
Why Do Adults Need Invisalign?
Every dental patient has their own unique oral health needs, but the adults who pursue Invisalign or other alignment methods typically fall into one or more of the following categories:
The "Now I Know Better" Adult: Adults who shunned traditional metal braces as teens because they didn't want to deal with taunts of "metal mouth," the discomfort of metal brackets and wires, or the extensive food restrictions.
The "Too Little Too Late" Adult: Adults who did have metal braces as teens, but their alignment issues were not completely rectified, or they didn't wear their retainers as indicated and the effort was for naught.
The "I'm Getting Old" Adult: Adults who have had relatively minor oral health issues but are now experiencing new problems because of the misalignment of their teeth, or because their once-secure teeth seem to be shifting.
Rest assured, you are never too old to qualify for Invisalign, as long as your oral health allows. Wearing Invisalign is an adult decision (even though some teens qualify for this teeth-alignment method), and wearing the nearly invisible trays is a responsibility that, when handled properly, will offer amazing, long-lasting results: A gorgeous, straight smile.
Why Adults Love Invisalign
Invisalign has made it possible for adults to finally have the straight teeth they've always wanted, without the hassle of metal braces.
Adults love Invisalign because:
No one can see the thin, nearly invisible aligners.
The aligners are removable so they can eat and drink whatever they want.
Fewer visits to their Invisalign provider are necessary because they can change their trays on their own as indicated in their customized treatment plan.
They can clean their teeth as usual and no special tools are required.
Invisalign doesn't interfere with work or socializing.
The aligners are comfortable and easy to care for.
Invisalign is affordable.
One of the biggest reasons adults love Invisalign is because this orthodontic method is customized to treat whatever alignment issue you're experiencing. Whether you have an overbite or underbite, cross bite or open bite, Invisalign can do just about everything traditional metal braces can do. From correcting moderate aesthetic complaints to repairing severe alignment problems, in the hands of a skilled practitioner, Invisalign has helped millions of people get a straight smile.
Unexpected Benefits of Invisalign for Adults
Besides the cosmetic advantages of straight teeth that are a boost for appearance and confidence, adults discover that when teeth are in alignment it is beneficial for their overall oral health. Fixing crowding, gaps, or improper bites can improve how your jaw functions and prevent more serious problems from occurring in the future.
TMJ sufferers may find themselves more prone to cavities in the crowded areas, or they may learn that misalignment contributes to their clenching and grinding. In other words, straightening your teeth could make your TMJ and other oral health complaints disappear completely.
Ready to learn more about Invisalign and discover if you're a good candidate for this innovative and effective orthodontic treatment?  Schedule a consultation with Dr. Carole Sherrod Jewell, certified Invisalign provider at Red Bank Dentistry in Red Bank, NJ.