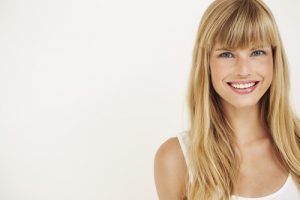 Many Invisalign patients find that, after they have spent months meticulously following their customized plan to straighten their teeth, they're still not completely satisfied with the final product. They love their straight teeth, but they may not be fans of their stained or discolored teeth. Teeth whitening is the ideal accompaniment to Invisalign. When you combine the two, the result is a straight, white, gorgeous smile.
The Speed of White
After a year or so spent straightening your teeth with Invisalign, the last thing you may feel like doing is signing up for another cosmetic dentistry treatment. However, professional teeth whitening is one of the most effective – and fastest – ways to whiten your smile.
If you choose to whiten your teeth in your Red Bank dentist's office, you will undergo a treatment using powerful bleaching. The whitening product is applied directly to your teeth and a special light is used to "cure" the material. Patients with sensitive gums needn't worry as every precaution is taken to protect your mouth from sensitivity to the bleaching agents.
In all, the procedure takes about an hour, and amazing results can be seen after just one treatment. Some patients, however, want the whitest of white teeth. And patients who have yellowish or brownish tones in their teeth may need further treatments. Discuss the desire for more whitening appointments with your dentist.
Teeth Whitening on Your Own Time
If you rather enjoyed your Invisalign treatment and the responsibility that was required of you throughout the months of concentrated alignment, KöR deep bleaching may be your teeth-whitening weapon of choice. KöR whitening trays are one of the most effective teeth-whitening processes. Molds of your teeth are made so customized whitening trays can be made for your mouth (sound familiar, Invisalign patients?). Once the trays are ready, they are tested for fit and comfort and adjusted as needed.
From there, you're on your own good faith, following the instructions and using the materials your Red Bank dentist has provided. For two straight weeks, while you sleep, you will wear your KöR whitening trays. This effort will be followed up by an in-office bleaching treatment which completes this thorough whitening treatment.
The best candidates for KöR deep bleaching are patients who have tooth sensitivity, or who have teeth that are greyish or stained by medication use. Even if you don't fit into these categories, if you want some seriously white teeth, talk to your dentist and Invisalign provider about take-home whitening kits.
What's Right for Your Smile Makeover?
When discussing cosmetic dentistry procedures with your dentist, it's essential to determine up front if teeth whitening will work for you before your Invisalign treatment commences. Invisalign and teeth whitening go hand in hand, but if your teeth are stained or yellowed deep down in their depths, no amount of bleaching will ever change their color. In cases like these, straight and white teeth are better created using porcelain veneers or Lumineers. You get the same white, aligned, amazing-looking smile – and, it can happen in a fraction of the time that it takes to carry out your Invisalign treatment.
There are always options to weigh when it comes to your personal smile makeover. Discuss what plans would work best for your smile so you get the results and the look you want. Schedule your consultation with Dr. Carole Sherrod Jewell at Red Bank Dentistry in Red Bank, NJ.