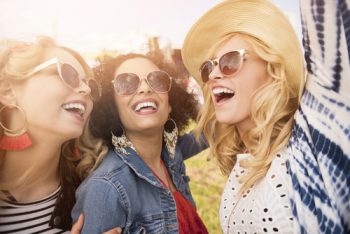 Millions of adults have undergone Invisalign braces with great success. But why is this orthodontic method so popular? They're still braces, right? How can that be any fun? The results that Invisalign produces are steady and satisfying, but it's not just seeing your new smile come to fruition that makes Invisalign popular. There are multiple reasons that these nearly invisible aligners are the weapon of choice for so many adults and teens who want straight teeth.
Control and Precision
Invisalign offers nearly instant gratification. Your teeth begin to move right away, so you can begin to see a change in tooth alignment quite soon after treatment begins. Not all teeth are moved at the same time, however, and this is a good thing. The precise, regulated movements and pressure of Invisalign provide great control over how and when the teeth shift. Teeth can be repositioned not only vertically and horizontally, but they can even be rotated.
Customization
Invisalign aligners are designed for your unique mouth from start to finish. Once you have been identified as a good candidate for Invisalign, an initial treatment plan will be created for you and you alone. You will be able to see a high-tech, cutting-edge, 3D computer image of your mouth and your Red Bank Invisalign provider will move the teeth around on the screen and observe the jaw from various angles to determine the best route to optimal results.
Confidence
A recent Invisalign survey found that nearly 80 percent of 2,000 adults in the U.S. who underwent Invisalign had a significant boost in self-confidence. When you feel good about yourself, the rest of your life can be that much better – professionally, personally, socially, romantically, and emotionally. Plus, you don't have to be conspicuous during Invisalign treatment. The nearly invisible aligners are discreet, so no one ever needs to know that you're getting your teeth straightened.
Convenience
Shudder at the thought of conventional braces with their brackets and wires, food restrictions, and special cleaning tools? Invisalign eliminates all these objections. You can remove the aligners to eat whatever foods you love. You easily clean them as indicated by your Red Bank Invisalign provider, and easily brush and floss your teeth as usual.
Comfort
There will be some pressure at the start of each new set of Invisalign aligners, but this is as it should be – if the aligners don't create some pressure, then they're not doing their job to move your teeth. The aligners do have smooth edges though, and that means less irritation to teeth and gums. The entire Invisalign process is focused on efficient, patient comfort.
Invisalign requires dedication from the wearer – dedication to wear the aligners 20 to 22 hours a day, to not eat with the aligners in your mouth, to only drink water while wearing aligners, to clean the aligners properly, to change the aligners about every two weeks as indicated by your dentist. Responsibility is part of Invisalign treatment, but the rules are worth the results.
Ready to learn more about Invisalign and discover if you're a good candidate for this orthodontic treatment?  Schedule a consultation with Dr. Carole Sherrod Jewell, certified Invisalign provider at Red Bank Dentistry in Red Bank, NJ.