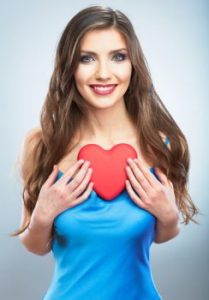 Love is not always easy, especially when Valentine's Day is around the corner. You may feel rushed to make a love connection before February 14. You can improve your prospects for making a romantic connection when you focus on enhancing your smile with Invisalign braces. Developing an orthodontic plan with your Red Bank Invisalign provider will get you started on your journey to an aligned smile right now. You'll be proud of how your appearance improves along the way, and you'll be eager to show off your smile to every possible match when your treatment is complete.
What Does Your Smile Have to Do with Love?
Appearance matters when it comes to finding the love of your life (or just love for right now). Yes, sense of humor and a good personality are necessary, but you must be attracted to someone to fall in love with them. And your smile plays a part in that overall level of attractiveness.
The American Academy of Cosmetic Dentistry regularly gathers statistics about how your smile can affect your love life. Here is what you need to know:
Want to be kissed? 33% of people won't pucker up if you have bad teeth.
Open to a blind date? 33% of people would not set up their BFF on a blind date with a person who sports bad teeth.
Want to look younger? You're not alone. Half the people who pursue cosmetic dentistry not only want to look younger they want to feel younger.
Want to be more appealing? 85% of people say good teeth make you look more attractive.
Want to look and feel better about yourself? Cosmetic dentistry is the answer for 89% of people.
Plus, almost 85 percent of adults think an attractive smile is essential for getting a date. When your smile is that good, you won't just be getting one date, you'll be landing many.
How Can Invisalign Affect My Dating Life?
Invisalign isn't the total solution to the trials you may endure in dating and love. However, being self-conscious about your crooked or imperfect teeth absolutely impacts how you feel about yourself. If you don't have good self-esteem and self-confidence, that will come through in the way you present yourself, especially to a potential romantic match.
When you have straighter teeth, you'll be proud of your smile. You'll be more likely to smile and laugh, which will automatically make you look more attractive. And if you finish off your Invisalign braces treatment with professional teeth whitening, you'll have not only a straight smile but a gleamingly bright smile.
Don't let another Valentine's Day come and go without doing something to improve your chances for love. Invisalign doesn't work overnight – and that's a good thing when it comes to orthodontics – but over time you will see yourself changing, physically and emotionally, both for the better.
Visit Dr. Carole Sherrod Jewell at Red Bank Dentistry to discuss your orthodontic and cosmetic dentistry options. It is possible to love your smile!