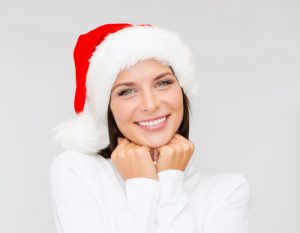 What's on your wish list this holiday season? If the state of your smile has been on your mind, perhaps you're thinking about cosmetic dentistry and what kind of smile makeover might be right for you. When you invest in your oral health, you will improve your appearance and your confidence will skyrocket. Work with your Red Bank dentist to find just the right smile upgrades for you.
You want just a little sparkle.
Mostly happy with the smile you have? You deserve to be completely happy with your smile. The right cosmetic dentistry tweaks can transform your teeth without demanding a lot of your time or budget.
One of the fastest, easiest, most reliable, and most effective ways to get a smile makeover is through professional teeth whitening. This treatment can happen in your Red Bank dentist's office in about an hour, or you can opt for take-home whitening trays that are customized to your mouth. Either way, you will get that coveted sparkle – teeth will be multiple shades whiter once those stains have been eliminated with your dentist's powerful bleaching agents.
You need a few new decorations.
You know when a holiday decoration has gotten too old to display anymore. If you're feeling like your teeth are too flawed to show when you smile, then it's time to upgrade.
This might mean correcting the one or two problem teeth that mar your smile, like that discolored front tooth or the misshapen molar. A porcelain crown can be customized to cover up what doesn't look right and blend in with the rest of your teeth. Crowns not only stabilize a tooth so it functions properly and is robust, they beautify a tooth so it looks as good as it works.
Tooth-colored fillings can also work some serious holiday magic. Composite fillings aren't just designed to correct decayed teeth that need a white filling, they also fix damaged teeth that are cracked, broken, or chipped. Your dentist may consider a filling the best choice for closing gaps between teeth or strengthening worn teeth. If you want just a little bling to boost your smile, white fillings could be the answer.
You want perfection.
Ready to gift yourself with a brand new you? There are a few different ways to achieve smile perfection. Many patients opt for porcelain veneers, which are personalized in all characteristics, so they are flattering, natural-looking, and flawless. You can look like a VIP or celebrity when you have customized veneers on your teeth. Carefully designed in length, color, size, and shape, veneers are the full complement to every aspect of your appearance – and they only take one procedure and two visits to your Red Bank dentist to complete.
If you're not on board with the veneers or Lumineers procedure and would prefer a smile makeover that's effective but not quite as invasive, you can cherry pick treatments for a perfect final product. Some patients want the straighten their teeth with Invisalign, then whiten with teeth whitening. Others want to correct just a few teeth with veneers and whiten the rest.
A serious and honest talk with your Red Bank dentist will help you determine which kind of smile upgrade is right for you, your budget, and your comfort level. Schedule your appointment with Dr. Carole Sherrod Jewell or Dr. Pauline Robinson at Red Bank Dentistry to talk about the right bling for your holiday smile.