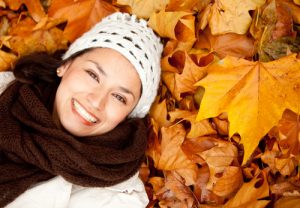 November is here, which means it's time to prioritize thankfulness. At your Red Bank dentist, we like to give thanks for the dental innovations that make our patients' lives easier and give us the opportunity to provide patients with a gorgeous smile makeover. Invisalign is particularly high on the list of things to be thankful for. Here are just some of the reasons why.
1. The trays are nearly invisible.
Adults have worked long and hard to get to where they are in life. The last thing they want are conventional metal braces to make them look like a teenager again. Invisalign is discreet in all ways. Super-thin, super-snug, and super-clear, the trays are practically invisible. Don't want anyone to know you're wearing Invisalign? Just don't tell them.
2. Eat what you want, when you want.
Because Invisalign is removable, there are no food restrictions for people undergoing this treatment. There is one rule, though: You must take the trays out before you eat anything and if you're drinking anything but water. Sipping on coffee all day may seem like no big deal, but you'll stain your aligners quickly with this kind of habit, and that would ruin the whole perk of nearly invisible trays.
3. See your Red Bank dentist less often.
Wearers of traditional braces usually need to have an adjustment and check-in with their dentist once a month. When you wear Invisalign, check-ups are only scheduled for every six weeks or so, and sometimes there is more time than that in between.
4. Be comfortable.
Don't be mistaken – you will feel Invisalign on your teeth. The trays are, after all, shifting tooth roots and crowns into new positions. Compared to metal braces, though, Invisalign will be smooth sailing. There are no brackets or wires snagging on sensitive lips and cheeks – only smooth aligners that fit perfectly in your mouth.
5. Enjoy independence.
Any orthodontics are a commitment. With Invisalign, you're committing to a good six months to a year of treatment, but you're also working on this alignment independently by following your Red Bank Invisalign provider's instructions. You're sent home from dental visits with a series of aligners that will last you for several months, usually with guidance to change them out about every two weeks. Keep up with the treatment plan, and your progress will stay on track.
6. Go braces-free when you need to.
The whole point of Invisalign is to be nearly invisible. That means you can go about your daily life without interruptions from orthodontics. You can smile at others, speak up in meetings, attend special events, and more without anyone being the wiser to your treatment. However, if there are moments when you feel like the aligners are getting in the way, you do have the freedom to remove them and go braces-free for a short period of time. You just don't want to leave the aligners out for hours or days or your progress could go off-track.
Interested in learning more about Red Bank Invisalign and whether you're a good candidate for this treatment? Contact Dr. Carole Sherrod Jewell or Dr. Pauline Robinson at our Red Bank, NJ, dental office to make an appointment.