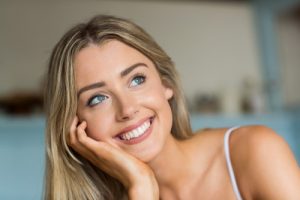 Maybe you have some extra time on your hands during the stay-at-home restrictions put in place because of COVID-19. Maybe you need a distraction from all the additional responsibilities that have been added to your list. Whatever situation you're in, if you are ready to do some self-care, you can use this quarantine to plan your smile makeover. When the time comes to finally invest in cosmetic dentistry, you'll be ready.
Whiten Up with Composite Fillings
Do you have a mouth full of silver fillings? If you're of a certain age, amalgam fillings were the typical repair for tooth decay or chipped teeth. Over time, however, these restorations begin to discolor tooth enamel. The fillings can even expand and break teeth.
Composite fillings, on the other hand, are tooth-colored and blend into your teeth. They are made of a safe, mercury-free material and strengthen the tooth they're bonded to. You can design a smile makeover that exchanges amalgam fillings with tooth-colored composite fillings to get a healthier, more beautiful smile.
Achieve a Brighter Smile with Teeth Whitening
Spending months in quarantine, indulging where necessary to keep yourself sane, might mean that you've had more coffee or wine than usual, or exposed your teeth to elements that are likely to cause stains. When stains or discoloration are your dental problems, professional teeth whitening delivers a bright, white, gorgeous smile. In-office or take-home whitening using powerful bleaching products will make your teeth gleaming white.
You may be tempted to purchase DIY whitening treatments, especially since online shopping is at your fingertips more often perhaps than before, but these investments don't always deliver. The results are not always consistent, nor will they always work – only your Red Bank dentist can tell you for certain if teeth whitening is a worthwhile investment.
Straighten Up with Invisalign
Have you finally reached the conclusion that you don't want to live with your crooked, gapped, or misaligned teeth anymore? The good news is that you don't have to with a treatment like Invisalign. Customized for your unique dental DNA, the nearly invisible aligners are designed to move a few teeth at a time until your entire mouth is in alignment.
The aligners must be worn 20 to 22 hours a day. You remove them for meals and snacks and cleaning. You see your dentist every six weeks or so for a checkup and to collect more aligners. Doesn't sound so bad, huh? If you can handle quarantine, you can handle Invisalign.
Go All in with Porcelain Veneers
The ultimate smile makeover, of course, is made of porcelain veneers or Lumineers. You can conceal every single thing you dislike about your smile with these super-thin shields of porcelain. They are carefully designed in size, shape, and color to look natural so they can be built into a flawless smile. Veneers are permanently bonded to your natural teeth and they are super-strong.
As you think about your smile makeover, review your cosmetic dentist's smile gallery, collect photos of your favorite celebrity smiles, and dream of a new smile for yourself. Then schedule an appointment with Dr. Carole Sherrod Jewell or Dr. Pauline Robinson at Red Bank Dentistry in Red Bank, NJ, to get your new smile started.