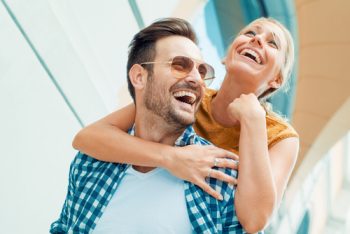 Wearers of Invisalign love that they can straighten their teeth discreetly, eat whatever they want along the way, and usually finish their treatment long before conventional metal braces would be complete. Even though Invisalign braces are convenient to use and nearly invisible, every braces-wearer looks forward to the day when their teeth will be in complete alignment. That's when the perks really kick in.
Alignment, All the Way Around
Sometimes, people with misaligned teeth don't even realize how much discomfort they're experiencing, until it's not there any longer. Invisalign aligns your teeth and bite, moving everything to where it should be so that your jaw and teeth are comfortable and don't give you any pain.
Invisalign braces can even help remedy TMJ disorder, minimizing the bad habit of clenching or grinding your teeth. This benefit, besides reducing pain, also means that your teeth are less likely to experience enamel erosion and gum recession will be kept at a minimum.
Straight Teeth for Easy Cleaning
When your teeth are straight, they are easier to clean. There won't be any overlapping teeth or impossible-to-brush crevices. Aligned teeth mean dental floss will pass easily between teeth, and brushing – done well – will truly be thorough when you can reach every tooth without difficulty.
Combining your straight smile with regular check-ups and cleanings at your Red Bank dentist means you're nipping any potential dental problems in the bud. Teeth will be immaculate, and your likelihood of developing any decay or other oral health problems is reduced dramatically.
Fun to Eat
There are no eating restrictions while wearing Invisalign, but you'll discover the pleasure of eating all over again once your treatment is complete. You won't get food stuck in problem spaces, it will be easier to bite and chew, and you'll digest your food better because your teeth will allow you to chew properly and thoroughly.
Go ahead and dig into corn on the cob, your favorite proteins, crunchy fruits or veggies, and even your favorite chewy candies (within reason). You'll want to keep the dental floss handy to get any persistent foods out of the way, but you'll never have to worry about what you eat again.
Smile, Just Smile
One of the biggest reliefs an Invisalign-wearer feels post-treatment is the freedom to smile big and smile often. Your teeth will be gorgeous and, combined with a professional teeth-whitening treatment, will be bright and gleaming. You'll never want to stop showing off your smile makeover. Pictures? Yes, please. Social events? You'll want to sign up for all of them. Big project at work? You'll feel confident about leading the way.
Get Your Invisalign Smile Started Today
Invisalign has so many perks during treatment, but you will be especially thankful of your orthodontic choice after the fact. Enjoy a gorgeous, straight smile with help from certified Red Bank Invisalign provider Dr. Carole Sherrod Jewell. Make your appointment to find out if you're a good candidate for Invisalign.