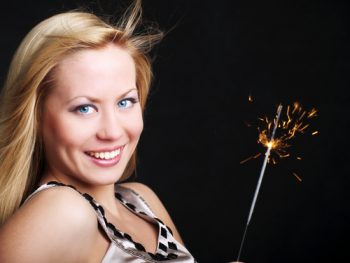 Ask any wearer of conventional metal braces how they feel about their orthodontic treatment and chances are you will hear words like: captive, prisoner, stuck, limited. Invisalign is the type of orthodontia that minimizes and even eliminates all these negative feelings.
Freedom to Eat
The rules of Invisalign include removing your aligners to eat, which means there are no food restrictions for Invisalign wearers. Unlike the limitations of metal braces – no pizza crust, popcorn, chewing gum, taffy, hard candies, and the like – you can enjoy whatever foods you love. All you need do is pop out the aligners for meals and snacks.
Just remember that when Invisalign is firmly in place, the only thing you can eat or drink is water. Otherwise, you're at risk of staining or breaking your aligners.
Freedom to Socialize
Metal braces certainly don't prevent you from getting out there and meeting people or doing your job. However, the feelings that metal braces can give you are the problem. You may be self-conscious with crooked or gapped teeth, but there is potential to be even more ashamed of your appearance when you have brackets on your teeth.
Orthodontic treatment has come a long way over the past few decades, and no innovation has been as revolutionary as Invisalign. You can smile, talk, and engage without worrying about your braces being a distraction. No one will know you're wearing Invisalign unless you tell them.
Freedom from Discomfort
Invisalign will create pressure on your teeth from time to time, usually each time you change to a fresh set of aligners. This is normal, and if you weren't feeling anything with your aligners in place then they wouldn't be working correctly to shift your teeth.
This is small price to pay for straight teeth. Wearers of traditional metal braces must endure sharp, poking brackets and wires which have the potential to tear and scratch at their gums, lips, and cheeks. The smooth, thin, comfortable Invisalign aligners are no threat to your tender mouth tissues.
Freedom to Smile
Invisalign begins to work immediately, shifting your smile into alignment tooth by tooth. Each Invisalign plan is determined fully at the start of treatment and teeth are moved little by little, different teeth at different times, until your entire smile is completely straight. That means you'll start to see results soon and realizing that your teeth already look better and more amazing every day will make you want to smile more often.
You'll have something to smile about when you're proud of your straight teeth. And smiling a lot means that you'll be happier, look happier, and make others feel better. After all, smiling is contagious. Getting this kind of mood boost every day is worth every Invisalign rule you must follow.
Freedom to Be Yourself
If you have ever felt caged in because of your misaligned smile, you probably can't imagine what it feels like to have straight teeth. Invisalign will get you there quickly, and with amazing results. Nearly any misalignment that can be corrected with metal braces can be corrected with Invisalign. Adults and teens alike benefit from the innovation of Invisalign. Find out if you're a good candidate. Schedule a consultation with Red Bank Invisalign provider Dr. Carole Sherrod Jewell.