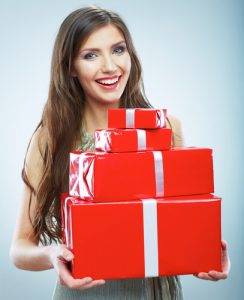 Do you treat yourself come holiday time? After all, you're purchasing gifts for all the people that you love in your life (and even some you don't). This season is an excellent time to reward yourself for your hard work throughout the year, your dedication to your family and friends, and your tendency to put others first. When you're self-conscious about your teeth and smile, one of the best resources to tap is your Red Bank dentist. Invisalign just might be the present you give yourself now for the future.
Adults can wear braces too, thanks to Invisalign >>
Reject Bad Oral Health Habits of the Past
Plenty of adults find themselves sinking into bad oral health habits. In most cases, poor dental health occurs because of neglect, whether intentional or unintentional. Maybe you've been tending to your family's needs and forgetting about your own. Perhaps you've put work first or other health items and forgotten to make oral health a priority.
Bad oral health habits don't necessarily give you crooked teeth (unless you still suck your thumb), but they certainly don't help. With Invisalign, you are forced to focus on your teeth. You need to keep your teeth and gums clean, keep your nearly invisible aligners clean, and maintain regular visits to the dentist. So not only will a course of Invisalign treatment get you the new smile you've always wanted, it will also help reprioritize your dental health and make it that much better.
Can Invisalign fix your TMJ disorder? >>
Focus on Your Oral Health Now
From the start, your dentist will design a customized treatment plan for your mouth alone. This plan evaluates the alignment of your teeth and determines where they need to move. Your personalized Invisalign aligners will shift a handful of teeth at a time, making gentle but consistent efforts to align your smile.
Invisalign wearers admit to plenty of perks of Invisalign beyond just achieving straight teeth:
Still being able to eat crunchy or chewy foods whenever you want.
Wearing braces without anyone noticing them or even knowing about them.
Employing a cosmetic dentistry treatment that doesn't interfere with work or social life.
Choosing snacks wisely because of the aligners and, as a result, shedding a few pounds.
6 ways to have success with your Invisalign treatment >>
Look Ahead to Your Smile Future
It's all on you to make your oral health future bright, and to make Invisalign truly work for your smile. Being dedicated to your Invisalign treatment ensures that your teeth move as indicated by your Red Bank Invisalign provider. It takes time to change a smile, especially through orthodontics, but Invisalign makes it easy to envision the final results. Plus, with a straight smile, your teeth will be easier to take care of and, therefore, healthier and less susceptible to developing cavities or other oral health issues.
With a straight, white smile, you will feel better, look better, and be the best version of yourself. Being confident about your smile helps you be confident in all parts of your life, from career to love. Contact Dr. Carole Sherrod Jewell at Red Bank Dentistry, an experienced Invisalign provider, to find out whether you are a good candidate for Invisalign. Make your appointment today, and discover the smile gift that really does keep on giving.