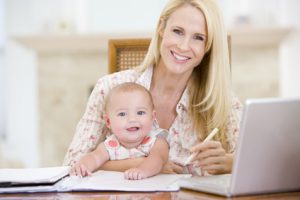 If you're a mother, chances are good that your own well-being is regularly on the back burner. You may manage to squeeze in your bi-annual dental checkups and cleanings, but you may not be making time for any sort of other dental care your teeth could use. When it comes to having straight teeth, many adults are content to live with what they have. But just because you aren't a teenager anymore doesn't mean there isn't room for you to have a perfect smile – and you can make it happen without wearing traditional metal braces. Let's talk about Invisalign. 
It's not easy to take care of yourself when you're a parent. But the benefits of Invisalign are such that, once your teeth have been straightened, that new smile will do a lot more for your oral health and overall health than just give you a beautiful smile – and all without any energy on your part. 
Mama-to-be? Pregnancy can affect your oral health >> 
Invisalign's health benefits are many: 
Ward Off Cavities: Your gums will fit more securely around your teeth when they're properly aligned which means there is less room for food particles to settle in there and get stuck. And that results in less chance of decay, cavities, or even gum disease. 
Lose Weight: Most moms are pretty happy to lose a pound or two, especially if it doesn't require a lot of effort and sweating. Invisalign will make you more conscious about the food you're putting in your mouth because you must remove the invisible aligners to eat. And because you have to wear the aligners 90 percent of the day, it cuts back on mindless snacking. 
The most coveted celeb smiles >> 
Feel Healthier: How can straight teeth make you feel better? An aligned bite can reduce headaches. Straight teeth mean you chew your food better and, in many cases, make healthier eating choices – both things can counteract gastrointestinal disorders. 
Gain Confidence: You don't have to suffer with embarrassing metal braces to get straight teeth. Invisalign is barely noticeable so you can go to school pick-up or a business meeting with renewed confidence that your smile is getting better every day and no one can even tell why. 
Invisalign + Busy Professional = Success >> 
Why Invisalign Works for Multi-Tasking Moms
For the multi-tasking moms who say they truly don't have time to worry about one more thing in their life, here's a look at Invisalign by the numbers: 
Invisalign takes about half the time of traditional braces to straighten your teeth, an average of 12 months. Over that time period you will wear between 18 and 30 different aligners which are customized to your mouth and treatment plan.
You only have to visit your dentist about every six weeks for her to review the progress of your treatment. Otherwise, you'll have new aligners on hand and a pre-set regimen and schedule that your dentist has laid out for you so you can change your Invisalign aligners at the right time (usually every two weeks, give or take) instead of feeling pressure to make a dental appointment on a specific day.
Invisalign wearers must keep the aligners in for at least 20-22 hours a day. The only time you remove them is for eating and brushing and flossing, which means only four to six times a day.
And, finally, Invisalign means you can eat whatever you want. There are no restrictions. Unlike traditional braces-wearers who are forbidden to nosh on popcorn or chewy foods, for example, Invisalign wearers don't have to sacrifice the things they love to eat to get a perfect smile. And every mom can appreciate that. Sometimes you just need to indulge after a long day of being a parent.
Time to put yourself first. Contact Red Bank Dentistry to schedule your free initial consultation, learn more about Invisalign, and find out why this type of orthodontic treatment is ideal for your life as a mom.