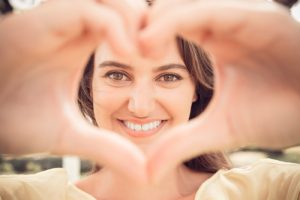 If you're shy about showing off your teeth in your online dating profile, what's going to happen if you make a match and then meet in person? Filters don't work in the real world, but cosmetic dentistry and restorative dentistry do. A good smile makes you stand out and makes you more approachable, interesting, and attractive. Whether in photos or in person, having great teeth is often the element that wins you the upper hand, and the love match.
Whiten Up to Boost Your Image
Eliminate your stained and discolored teeth caused by your unshakeable Starbucks habit. Professional teeth whitening obliterates the nasty brown and yellow marks that are giving you dingy teeth. If you qualify for this treatment, you can have it done in about an hour at your Red Bank dentist's office. New teeth on your lunch break, just in time for your date tonight!
Veneers Fix Everything
While porcelain veneers cannot fix your chemistry with someone, your powers of persuasion and the punch of your personality will come through better than ever when you feel confident about how you look.
In two visits to your Red Bank cosmetic dentist, you can have a smile makeover that corrects everything you dislike about the look of your smile. Chips, stains, misalignment, gaps – it's all concealed behind natural-looking veneers. You'll be easy to fall in love with when you can't stop smiling.
More Grins, Fewer Grimaces
Do you smile oddly because you have TMJ issues, like grinding or clenching your teeth? You may experience chronic pain that has you grimacing instead of genuinely smiling all the way to your eyes.
TMJ therapy and a mouthguard can minimize this problem but, for true alignment, Invisalign braces are the way to go. Your jaw will move into its proper place, eliminating the discomfort you feel and freeing up your smile to feel good, look good, and attract a good match.
Clean Up
How long has it been since you've seen your Red Bank dentist for a check-up and cleaning? If you've slacked off, it's time to make oral health care a priority. A thorough dental cleaning will give your teeth some shine. This is an opportunity to have your gums and teeth examined too. If decay is festering or other problems are developing, your dentist will recognize it and tend to the problems sooner rather than later.
You can have a great smile, but it's essential to take care of it too. Tend carefully to your teeth and potential matches will notice that you have a great attention to detail, which means you may be just right for them.
Love Your Smile
Love is not easy to find, and whether you're feeling serious or casual about your online dating efforts, it's important, above all, to feel good about yourself and comfortable in your own skin. When you have a smile that flatters you, is healthy, and elevates your look, you'll be that much more magnetic in photos and feel confident when you meet a match in person.
Connect with the dentist who can perk up your smile – Dr. Carole Sherrod Jewell in Red Bank. Schedule your appointment and get started on a smile you'll love.