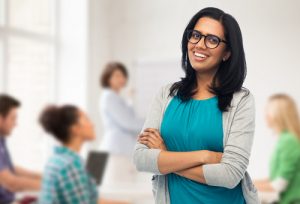 Teacher, student, parent – whichever category you fall into, Invisalign can work for you as the latest school year kicks off. While these clear aligners do take some getting used to, this orthodontic treatment fits conveniently into any lifestyle.
Invisalign for Teachers
Teachers have plenty of talking to do every day. Your students and colleagues are always watching your mouth to see what's going to come out next. If you're self-conscious about your teeth in front of the classroom or a close-up Zoom classroom, Invisalign can get your bite into alignment and straighten your teeth so they look their very best.
The best part is, the aligners are practically invisible, so unless you're under intense scrutiny from curious (and blunt) students, chances are no one will really notice you have Invisalign. Start your journey now and you'll be used to the feel and presence of the aligners long before the school year actually begins, so you can focus on lesson plans and getting to know your students instead of worrying about your teeth.
Invisalign for Teens
Invisalign Teen is a special version of conventional Invisalign. Designed with busy, growing adolescents in mind, there are two unique features of Invisalign Teen. There are small blue wear indicators on every aligner that fade away as the aligners are worn. Your Red Bank dentist will known right away if your teen is wearing their appliances for the prescribed amount of time.
Invisalign Teen is also customized for the changing adolescent mouth, making room for any teeth that have not yet erupted but ensuring that, when they do, they will be properly aligned along with all the other teeth.
Invisalign for Parents
The beginning of another school year is like the beginning of a New Year for many parents. They take this season to finally invest in themselves after a summer dedicated to family outings and their kids' many needs. Now is the time to think about how Invisalign can help you in your endeavors.
Professionals can wear Invisalign without any of their colleagues being the wiser. Your teeth will slowly but surely move into alignment and look better every day. Plus, there are no major restrictions with Invisalign. You can eat whatever you want, whenever you want, as long as the appliances are removed first. It's a workable, viable, teeth-straightening solution for busy parents who don't want to revert to their own adolescence and be a metal mouth.
Are You a Good Candidate for Invisalign?
No matter who gets Invisalign or how long they wear it, the same rules apply for every patient. You must wear the aligners 20 to 22 hours a day, see your Red Bank dentist about every six weeks for a check-up and to collect new aligners, and change your appliances as instructed.
This innovative orthodontic alternative is popular for a reason – it works. Whether adult or teen, find out whether you're a good candidate for Invisalign. Schedule an appointment with Dr. Carole Sherrod Jewell or Dr. Pauline Robinson, certified Invisalign providers, at Red Bank Dentistry in Red Bank, NJ.