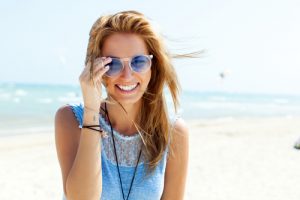 Some people plan summer vacations, others plan to take care of themselves during the warmer months. You will be in good company if you choose to use this time of year to get a smile makeover. Summer is a great time for change, to see the world anew, and to give yourself permission to find joy – your smile and your overall appearance.
Take Your Smile to the Beach
Sunglasses give you shade, but they don't hide everything. If you want to look as bright as the sun, porcelain veneers are the cosmetic dentistry procedure to get you there.
Veneers conceal everything that's wrong with the appearance of your smile. This cosmetic dentistry treatment is beloved for its comprehensive nature, giving you white, straight, flawless teeth in place of chips, cracks, gaps, stains, and misalignment. For patients who prefer a less-invasive but just as impactful smile makeover, Lumineers are the sister to veneers.
Fly the Friendly Skies with a New Smile
Whether flying domestic or international, sitting down on an airplane with your vacation destination in mind will make anyone smile. Spruce up your teeth before you go with a professional teeth-whitening treatment. Or correct little problems with a restoration like tooth-colored fillings.
You may have a great smile that's straight and healthy, but it could be whiter. It could be more attractive. It could be just about perfect with a few tweaks, and ultimately complement your appearance and your happiness at traveling the world.
Enjoy Peace, Quiet, and Invisalign in the Mountains
Not everyone wants sand and surf for their summer vacation. There are plenty of folks who prefer the mountains and lakes and a return to nature for their time away. This solitude is a great time to begin your Invisalign braces treatment.
There is an adjustment period for any orthodontic treatment. Invisalign is nearly impossible to see on the teeth, but you will feel some pressure or discomfort at the start while you get used to the appliances. Being able to get used to your invisible braces while you're on your own allows you to appreciate Invisalign for what it is and get yourself into a good routine so your treatment is successful.
Make It a Staycation
If you feel like you've been hiding your smile because your teeth are in disrepair, a staycation gives you the opportunity to get started on your dental restorations without announcing your dental care to the world.
If you are ready to fill in the holes in your smile left by missing teeth, a staycation gives you time to undergo oral surgery for the placement of dental implants and spend the summer healing so your grin is complete for fall and, well, forever. A summer staycation is also a great time to have porcelain crowns or bridges put in place. You'll complete your summer smile bucket list in no time.
Ready to make time for your smile to shine? Schedule your appointment with Red Bank dentist Dr. Carole Sherrod Jewell to get on the road to a new smile today.