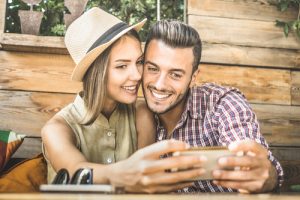 Instagram users do their best to post the most perfect and flattering photos of themselves. The Insta devotees who wish they had more smiling selfies may need to invest in a little self-reflection. If you're embarrassed by your crooked teeth and that's why your grins are always teeth-free, it's time to find out what Red Bank Invisalign can do for you.
What's in a Smile?
Smiles aren't all about appearance, so understanding that there's something beyond the surface is the first step to choosing the right dental solution. After all, there's more to you than just pretty pictures, right? You want to draw people in with your great appearance in your selfies and reveal the depth in good time. Invisalign can give you both.
Straight teeth are important not only for a good-looking smile, but for a healthy one. Teeth that aren't aligned are more likely to suffer from tooth decay and other oral health problems. After all, it's much harder to clean between crowded teeth than it is to slide that dental floss through straight teeth.
Jaw problems are also a side effect of misaligned teeth. When your jaw is out of whack, you can suffer from issues with your TMJ or grind and clench your teeth, which leads to pain, gum recession, worn enamel, and damaged dental work.
Invisalign Won't Interrupt Your Selfies
You won't have to worry about suspending your selfie fun as you wait for your teeth to get gorgeous. Invisalign's claim to fame is its nearly invisible aligners. You can smile all you like while your treatment is underway and no one will notice that you're sporting orthodontics.
In a short time, your teeth will begin to show obvious signs of straightening out. You'll be so encouraged by the process you're likely to start showing those teeth in your pics before your orthodontics are even completed.
Invisalign treatment takes an average of 12 months to complete, but it can be shorter or longer depending on where your teeth are now and where they need to move to get into alignment. Once you have undergone an evaluation, your Red Bank dentist has designed your customized treatment plan, and your aligners are made just for you, you will leave your Red Bank dentist's office with several sets of aligners. Each set of aligners is worn for about two weeks and they are intended to move just a few teeth at a time until your entire smile is straightened out.
Find Out If Red Bank Invisalign Is Right for You
No one wants to interrupt their life (or their social media) because of braces, least of all adults. Whether adolescent or grown-up, you may be an excellent candidate for Invisalign braces. Learn more about whether this orthodontic option is right for you and your smile.
Contact experienced Red Bank Invisalign provider Dr. Carole Sherrod Jewell. Schedule your appointment to find out how she has straightened hundreds of smiles and how she can take care of your smile too – so you can have perfect selfies.