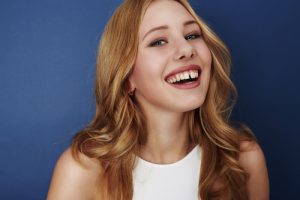 Everyone's smile is unique, but some smiles have a common characteristic – delightfully gapped front teeth known as lucky teeth. A diastema is a space or gap between two teeth, and while some folks want to eliminate this gap, others embrace it. So, are you feeling lucky by sticking with what you have? Or are you choosing to make your own luck by undergoing cosmetic dentistry?
The Stories Behind Lucky Teeth
While the United States can claim some celebs with notable and memorable gapped teeth – Willem Dafoe, Anna Paquin, Lauren Hutton – we don't really have a phrase or name for such a rarity in a smile. Other countries, however, celebrate the gap.
The French call gap teeth "dents du bonheur," which translates to "lucky teeth." Francophiles Brigitte Bardot and Vanessa Paradis have made lucky teeth a thing of beauty. In Nigeria, gapped teeth signify beauty and luck. In West Africa, a set of gapped teeth are a symbol of wealth. Even mermaids, in mythology, are described with alluring gapped teeth.
Cosmetic Dentistry to Fix Gapped Teeth
Teeth gaps, are, ultimately, subjective. You either love 'em or you hate 'em. If you have gapped teeth and want to make them go away – or make them look better – there are plenty of cosmetic dentistry options to help.
Invisalign: Gaps, misalignment, and crooked teeth can all be corrected with a round of Invisalign Clear and practically invisible aligners are customized to push your teeth into their proper positions. If you have an especially large diastema between your front teeth, a more severe case may take some extra tweaking from your cosmetic dentist or support from an orthodontist.
Porcelain veneers: One of the easiest ways to correct a gapped smile – and every other aesthetic problem you have with your teeth – is with porcelain veneers. Together, you and your Red Bank dentist work to develop the unique recipe for your veneers – in color, shape, size, and translucency. The porcelain shields will be placed over your natural teeth for a smile that is flawless. Gaps will be no more.
Teeth whitening: When you have gapped teeth, your smile stands out whether you like it or not. If you have no intention of closing the gap, you can spruce up what nature has given you, with a treatment like teeth whitening. Whether you choose an in-office whitening or at-home treatment, the results will be teeth that are multiple shades whiter, and gaps that look that much better.
Dental bonding: One of the fastest, easiest, and most economical ways to fix gapped teeth, dental bonding involves the application of tooth-colored resin to the teeth and hardening of the material to close the gap.
Cosmetic dentistry can fix everything you dislike about your teeth. You just have to decide what you love and what you don't. Ready to talk about gaps you don't like or other smile imperfections? Schedule your appointment with Dr. Carole Sherrod Jewell or Dr. Pauline Robinson at Red Bank Dentistry in Red Bank, NJ.