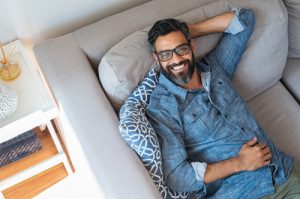 Teeth whitening comes in all shapes and sizes, at least according to the dental aisle in your local pharmacy packed with whitening strips, gels, toothpastes, and more. According to your Red Bank dentist, however, there are basically two types of teeth whitening – in-office professional whitening and at-home deep bleaching. When you really want to get the most for your money and make your teeth white, go pro.
At-Home Teeth Whitening
If you like the idea of doing teeth whitening in the privacy of your own home, it's time to learn about KöR Deep Bleaching. KöR is the most effective teeth whitening process and involves customized trays to ensure that all your teeth are whitened evenly. KöR whitening trays are also the best option for patients who have medication-stained teeth or tooth sensitivity.
First, your Red Bank dentist makes molds of your teeth to create your own unique, comfortable KöR whitening trays. Once the lab-made trays are ready, you will have an easy and quick visit to your dentist to check the fit and undergo any adjustments, if necessary. You will be sent home with the trays and whitening gel to administer as directed.
For two weeks at home, you will wear the KöR whitening trays while you sleep. This will be followed up by an in-office bleaching treatment. The KöR whitening deep bleaching system will be completed during this final visit.
While the KöR treatment will last for years with proper brushing and flossing and regular visits to your dentist for cleanings and check-ups, you can do touch-ups. You will be able to use the trays at home periodically to whiten your smile if you think this move is necessary.
In-Office Teeth Whitening
It's hard to compare any over-the-counter whitening product with the effectiveness of a professional-grade teeth-whitening treatment. In-office teeth bleaching uses powerful ingredients that have the capability of destroying the stain molecules in teeth.
An in-office bleaching treatment begins with the whitening product applied directly to the teeth – gums and lips are protected from the bleaching product to reduce sensitivity. A special light is shined on the teeth for 30 minutes. Another layer of bleach is applied and another 30 minutes are spent under the light.
Some patients see satisfactory results after just one teeth-whitening treatment. Others require several appointments to get the level of whitening they desire. Patients who have a yellowish or brownish tone to their teeth will benefit most from in-office teeth whitening.
White Teeth for Life
Teeth whitening works for many cosmetic dentistry patients – but it isn't for everyone. If you have teeth that cannot be whitened, don't despair. There is always a way to get a smile makeover and white teeth. Porcelain veneers are ideal for people who cannot benefit from a professional whitening treatment. Cosmetic tooth bonding may also be an option.
Find out what's possible for your smile makeover. Schedule a consultation with Dr. Carole Sherrod Jewell or Dr. Pauline Robinson at Red Bank Dentistry in Red Bank, New Jersey.