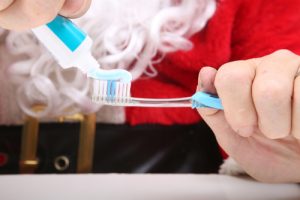 An Invisalign wearer enjoys privileges that other orthodontic patients do not – namely, they can remove their nearly invisible aligners, eat whatever they want, and clean their teeth easily. Even though Invisalign braces are discreet, the wearer needs to be diligent about keeping teeth and gums healthy. Help them out with a holiday gift that's just right for an Invisalign patient.
Water Flosser
A water flosser is a motorized appliance that produces a thin stream of pressurized, pulsating water so the user can remove plaque, bacteria, and food particles from between the teeth. A water flosser is an effective and comfortable alternative to string floss that is easy to use (whether you wear braces or not).
Everyone should floss at least once a day to protect the health of their teeth and gums and prevent decay, but Invisalign-wearers must be meticulous about their flossing efforts. Invisalign aligners fit snugly against the teeth and this means, without proper cleaning, bacteria and food can become trapped between aligners and enamel and lead to decay.
Toothbrush
Whether an electric toothbrush or eclectic collection of colorful toothbrushes, this gift will keep an Invisalign wearer in great shape for the duration of their treatment. Thorough brushing is important for anyone who has braces, whether adult or teen.
Also appropriate, and super helpful, are travel-sized toothbrushes or toothbrush cases. The person who wears Invisalign, after all, needs to be able to clean their teeth at a moment's notice. They'll be happy to have extra brushes at the ready.
Aligner Case
Invisalign aligners come with their own cases, but it doesn't hurt for the wearer to have more places to stash their braces. Even though Invisalign needs to be worn 20 to 22 hours a day, and there won't be much time for the aligners to set up shop in the cases, having multiple cases available to hold your Invisalign when you're eating and wherever you're eating keeps those customized aligners safe and sound.
Oral Health Travel Kit
If you have a friend or loved one who wears Invisalign and hates the inconvenience of needing teeth-cleaning tools at the ready, put together a friendly kit of necessities so they'll never be without the important stuff.
Purchase a handy little case that suits their style and will fit in purse, pocket, or briefcase and include the following:
Travel toothbrush.
Dental picks or floss.
Travel toothpaste.
Toothbrush cover.
Aligner case.
Chapstick
Give the Gift of Good Oral Health
You know your gift recipient best. Giving thoughtful gifts that will help them out in their teeth-straightening endeavors will be well-received. Look for fun ways to present the gifts: a toothbrush in a bouquet of colored pencils or lipsticks, wrapping paper covered with smiling emojis, you get the idea. The most important thing is that you're supporting your loved one on their journey to strong, healthy, beautiful teeth.
Ready to find out if you're an Invisalign candidate? Schedule your appointment with Red Bank dentist Dr. Carole Sherrod Jewell.