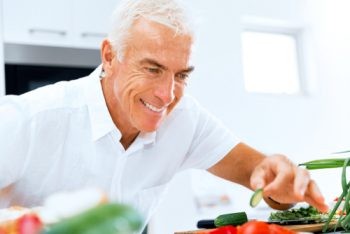 If you've reached an age where you feel like you need a smile makeover but think you're simply too old to indulge yourself, know this: A smile makeover would significantly improve your appearance and not every makeover involves major work, time, money, or commitment. In fact, some smile makeovers are small in every way but offer maximum impact no matter what age you are.
If You Think You're Too Old for Braces
Your eligibility for braces isn't about your age, it's about the condition of your teeth and gums and your willingness to be dedicated to the orthodontic process. Invisalign Braces are ideal for many people, especially adults who don't need a major overhaul but want to finally have a straight, perfect smile.
No adult should have to feel like an adolescent again wearing braces. Invisalign aligners are practically invisible, you remove them to eat, and they're easy to clean. The process requires a promise to follow the rules of your Red Bank Invisalign provider. Wisdom does come with age, but if you're investing in yourself and your oral health, it pays to do as your Red Bank dentist tells you and reap the rewards.
If You Think You're Too Old for Teeth Whitening
As you age, your teeth can show wear. For many older patients, teeth can yellow and become discolored. Years of hard work, after all, can make even the strongest things weaken. If you're a good candidate for professional teeth whitening, the results will be incredible, and the procedure doesn't have to take more than about an hour to complete.
If your teeth are permanently stained, no amount of professional-grade bleaching will make a dent in their appearance, but you're not out of luck. Porcelain veneers or Lumineers are super-thin pieces of porcelain bonded to your teeth to perfect them in all ways. Not only will veneers give you a super-white smile, they'll make your smile strong and conceal chips, cracks, gaps, misalignment, and more.
If You Think You're Too Old to Bother with Your Teeth at All
You do not have to allow time to march all over your face. You do not have to live with a broken-down smile, damaged teeth, tooth pain, or bleeding gums. Yes, you are more likely to have oral health problems the older you get. However, there are multiple ways to correct whatever discomfort you're experiencing.
Not every smile makeover must consist of cosmetic dentistry. Some older adults need restorative dentistry more. If you're suffering with swollen, red, or bleeding gums, you may have early gum disease. If you have loose teeth you may have periodontal disease. Gum disease treatment cleans up your unhealthy gums, reinforcing the foundation for your teeth. Should you need to replace missing teeth, dental implants get the job done, completing your smile permanently and soundly.
The wonderful thing about dental restorations is that they rebuild your smile, but they also look good too. No more silver fillings or unsightly clasps. Modern dentistry is about making your teeth healthy again and making them beautiful in the process, whether you're getting a porcelain tooth crown or a tooth-colored filling.
Look Younger with a Smile Makeover
Whatever you hope for your smile makeover, your Red Bank dentist will examine the health of your teeth and gums first to see the procedures for which you qualify. Schedule your appointment with Dr. Carole Sherrod Jewell in Red Bank to find out what smile makeover options are right for you.