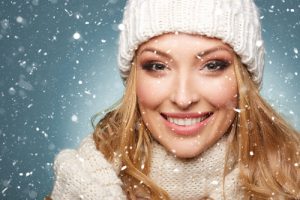 There is no shortage of ways to make your smile look better. Depending on how your teeth look now and the condition of your oral health, you may be a good candidate for cosmetic dentistry, or you may need restorative dentistry to rebuild the foundation of your smile. No matter what camp you fall into, here are 12 ways to improve your smile in 2020.
Brush your teeth. Recent research has shown that millennials especially is a generation that is skipping the all-important daily task of brushing. Take care of your teeth! Brush when you wake and brush off the day before you go to bed.
Floss. Flossing is not optional or something to do occasionally. Get that gunk out from in between your teeth at least once a day.
Visit your dentist. See your dentist twice a year for a professional teeth cleaning and checkup.
Whiten your smile. If you want a more beautiful smile fast, even if your teeth aren't perfect, get a one-hour professional teeth whitening treatment.
Get veneers. One of the most impactful smile makeovers you can get is with customized porcelain veneers or Lumineers, which cover up every imperfection flawlessly.
Replace missing teeth. Missing teeth not only mar your smile, they can make you look older and unhealthy. Dental implants take the place of root and tooth, permanently.
Get x-rays. Some insurance plans don't cover x-rays or only do so every few years, so patients opt not to get them every year. Plenty of problems can lurk below the surface. Invest in this small bit of self-care so your dentist can fix issues before they become serious complications.
Straighten your smile. Invisalign is a gamechanger for patients who opt for this alternative to conventional orthodontics. Discreet and faster than regular braces, Invisalign will straighten your smile without interrupting your lifestyle.
Correct TMJ problems. If you grind and clench your teeth, your temporomandibular joint (TMJ) could be to blame. With neuromuscular treatment or a bite guard, you can prevent this problem from wreaking havoc on your teeth, preventing cracks, breaks, and damaged dental work.
Get a night guard. If you wake with morning headaches, have mouth and jaw pain, and suffer from gum recession, a night guard can prevent you from further dental damage and discomfort.
Get gum disease treatment. If your gums are red, swollen, tender, or bleeding, you could be in the early stages of gum disease. Get treatment now before the problem balloons and results in tooth loss.
Replace silver fillings. Get rid of the amalgam and mercury in your mouth with tooth-colored composite fillings.
There is always a way to improve whatever is wrong with your smile. Whatever you dislike, whatever doesn't feel good, whatever you want to get rid of or get more of – it's all possible with the right smile makeover. Schedule your appointment with Dr. Carole Sherrod Jewell or Dr. Pauline Robinson in 2020.