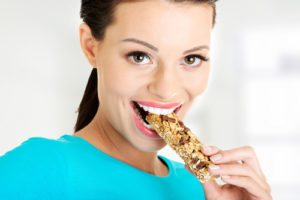 You're brushing your teeth or you're munching on something soft – and your tooth suddenly falls apart. It makes no sense, especially when you have a supposedly strong filling, but seeing part of a tooth come out of your mouth is enough to cause anyone to panic. Try not to – every dental problem can be fixed. In cases like this, a tooth-colored composite filling or porcelain crown can easily get the job done.
Don't Stall – See Your Dentist ASAP
First, you must make an appointment with your Red Bank dentist. Don't walk around trying to function normally, all the while freaking out about the condition of your tooth and whether the rest of your teeth are going to do the same thing. You deserve some reassurance, and you want immediate attention so you can prevent any bigger problems from developing.
Get Your Diagnosis
Your dentist will probably figure out quickly what's going on with your tooth, but she may want to do x-rays to confirm suspicions or dig a little deeper.
Your diagnosis could be a deteriorating filling. Your dentist may call it an undermined filling – a filling that looks fine on the surface but is weak underneath. A filling that is decades old has tolerated a lot of wear and tear and there is only so long that some fillings are able to last before they give up and fracture.
Time for a Dental Restoration
If you opt for a tooth-colored composite filling as your repair, then you're in good shape. This solution indicates that your tooth isn't too compromised and it's strong enough to handle such a restoration. If you need a dental inlay or onlay, the damage may be a little more severe and require a more robust repair. And if a porcelain crown is recommended, then your tooth likely can't be rebuilt from where it stands now and it needs a permanent cap to protect it from further deterioration and damage.
Getting your broken filling fixed is not only important aesthetically and for peace of mind, it's essential that you not allow any bacteria or food particles to get in there and wreak more havoc. Any infection that develops under the surface of your tooth could require a root canal or other dental restoration. It's avoidable if you get your broken filling addressed as soon as possible.
Maintain Your Oral Health
Your dentist looks out for problem teeth every time you visit her office – which should be twice a year for a checkup and teeth-cleaning. Ideally, she can see a problem before it develops so you can address the issue immediately. Sometimes, though, teeth simply deteriorate and there is no predicting when it will happen.
Whatever oral health problem you're dealing with, Dr. Carole Sherrod Jewell or Dr. Pauline Robinson at Red Bank Dentistry in Red Bank, New Jersey, can fix it. Schedule your appointment for a consultation or emergency dental repair.