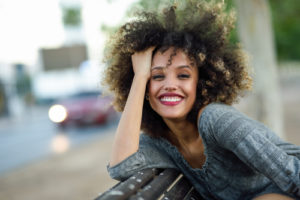 Changing your smile can change your life. If you're embarrassed or self-conscious about your teeth, improve them to improve how you think of yourself. Give your self-esteem a boost and you'll be that much more confident about every area of your life. With the right cosmetic dentistry solution, you'll smile more, speak up, and simply make yourself known because you're no longer hiding your teeth.
1. Brighten Up with Teeth Whitening
Teeth whitening remains one of the most popular cosmetic dentistry solutions because it's fast, affordable, and it works. If you're a good candidate for teeth whitening, you can spend one hour in your Red Bank dentist's office and brighten your smile in time for a special event, meeting, trip, or just because.
Though teeth may look smooth, they are not. There are plenty of crevices and spots where food and drink can build up to cause stains. Teeth whitening can blast away the discoloration to whiten teeth completely and make you feel like you have a truly powerful smile.
2. Straighten Out with Invisalign
Straight teeth not only look better, they feel better. People who have a misaligned jaw and teeth can suffer pain from teeth clenching and grinding. This condition can eventually cause enamel erosion, compromise tooth enamel, and even damage existing dental work. Invisalign is a discreet way to make teeth straight and beautiful while also aligning your bite. The result: A straight, comfortable, healthy smile. 
3. Conceal the Little Things with Composite Fillings
Fillings are for more than just correcting cavities. Tooth-colored composite fillings can also be used to eliminate gaps between teeth, repair chipped teeth, fix cracked or broken teeth, or strengthen worn teeth. Sometimes it's that one unsightly tooth that is marring an otherwise beautiful smile. A composite filling is matched to the color of your tooth enamel so it blends right in and corrects what's flawed. It's a quick and easy procedure with amazing results.
4. Reshape with Porcelain Crowns
An oddly shaped tooth can really mar an entire smile. If you have a tooth that stands out because it's so different than its neighbors because of size, shape, or color, a porcelain crown can rebuild it permanently. Crowns are customized to your smile so they fit in seamlessly. This cosmetic dentistry solution covers up a wonky tooth and protect it from damage and decay.
5. Fix Everything with Porcelain Veneers
If you have multiple cosmetic complaints about your smile, the best way to fix everything at once is with porcelain veneers. The smile makeover of all smile makeovers, veneers are so versatile they fix every big and little thing that's wrong with your teeth.
Veneers are customized to your mouth in size, shape, color, and translucency so they look like natural teeth and complement your features. You want a smile upgrade that looks natural while eliminating all the things you dislike about your smile. Veneers, done well, deliver.
Choose Your Cosmetic Dentistry Solution in Red Bank
Find out what kind of cosmetic dentistry procedures are right for your smile makeover. Schedule your appointment with Dr. Carole Sherrod Jewell or Dr. Pauline Robinson.